Stranded (#03 in Alaskan Courage Series)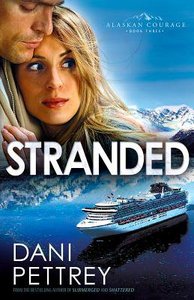 Eager Fans Await Bestselling Author Dani Pettrey's Latest Romantic Suspense

When her friend vanishes from a cruise ship, reporter Darcy St. James isn't satisfied with their explanation that she simply left her job of her own accord. Something isn't lining up, and Darcy believes the only way to find the truth is to put herself in Abby's position. Within days, Darcy learns her friend wasn't the only person to disappear mysteriously. Last summer, a woman vanished under almost identical circumstances.

Gage McKenna has taken a summer-long stint leading adventure excursions for the passengers of various cruise lines that dock for a few days of sightseeing. He's surprised to find Darcy working aboard one of the ships, investigating a troubling report. Something sinister is going on and the deeper they dig the more Gage fears they've only discovered the tip of the iceberg.

- Publisher
You May Also Be Interested In
About "Stranded (#03 in Alaskan Courage Series)"
Eager Fans Await Bestselling Author Dani Pettrey's Latest Romantic Suspense

When her friend vanishes from a cruise ship, reporter Darcy St. James isn't satisfied with their explanation that she simply left her job of her own accord. Something isn't lining up, and Darcy believes the only way to find the truth is to put herself in Abby's position. Within days, Darcy learns her friend wasn't the only person to disappear mysteriously. Last summer, a woman vanished under almost identical circumstances.

Gage McKenna has taken a summer-long stint leading adventure excursions for the passengers of various cruise lines that dock for a few days of sightseeing. He's surprised to find Darcy working aboard one of the ships, investigating a troubling report. Something sinister is going on and the deeper they dig the more Gage fears they've only discovered the tip of the iceberg.
- Publisher


Meet the Author
Dani Pettrey
Dani Pettrey is a wife, homeschooling mom, and author. She feels blessed to write inspirational romantic suspense because it incorporates so many things she loves--the thrill of adventure, nail biting suspense, the deepening of her characters' faith, and plenty of romance. She and her husband reside in Maryland with their two teenage daughters. Visit her website at www.danipettrey.com. A
Media
Customer Reviews For "Stranded (#03 in Alaskan Courage Series)"
Write Your Own Review
Did not disappoint
By Alyce,

Feb 09 2016
These books just get better and better. I found this one highly suspenseful. You'll be on the edge of your seat and find it hard to put down. Dani Pettrey is now my new favourite author. 
---
Awesome
By Bri,

Feb 03 2015
I was given the first book of the series as a Christmas present and was immediately hooked to the 'Alaskan Courage'
I really enjoy the emphasis and important placed upon family ties and relations in the books. 
Pettrey painted Gage as the perfect gentleman, caring for Darcy even when he was mad at her. 
Darcy's loyalty shows the depth of her friendship, and creates empathy as you are drawn in emotionally throughout the plot.  
As I progressed through the book I kept wishing I could read faster and faster so that I could find out what would happen next, and was kept on the edge of suspense the entire time.
There was also a touch of reality when there was an ending which you wouldn't expect
---
Good stuff
By Jessica R. Wakefield,

Nov 02 2013
I was really excited when this book arrived from the US. I love getting Amazon orders - it's like Christmas several times a year! I've been enjoying Dani Pettrey's Alaskan Courage series and was happy to delve into Darcy and Gage's story. I enjoyed the book but Darcy got on my nerves a little. She was simply too pushy and nosy for me to truly engage with. Even though I'd read Shattered (my favourite so far in the series), I had trouble remembering the connection she and Gage had in that book. As a result I was struggling to place where they were in their relationship - were they together, did they talk about a relationship before this book? and so on. This impacted on my ability to relate to them as a couple. Oh and yes, I could have reread Shattered to find out but I couldn't find my copy!

I found Gage a character I could understand more, his journey to faith was one I was happy to see through till the end - boredom is sometimes most often used by God if we let him! As much as I struggled with Darcy, her faith is something I liked. She clearly was working on things in her life, trying not to cross moral boundaries, but struggling all the same. Such a human trait!

As usual with this series the whole McKenna clan gets involved and as each book goes by it's easier to keep track of them all! I was confused though by the various cruise liner characters. They had minor roles and some very important roles, but they were very interchangeable and I didn't know who was who most of the time. This is important because when it came to uncovering the bad guys, I was confused as to which bad guy was which!

It seems like I'm not really liking this book - but I did enjoy it overall - just not loved it. I'm really excited about Silenced and reading Jake and Kayden's story!

Your series continues to keep me wanting more from the McKenna's Dani
---
More Dee Henderson than the last Dee Henderson
By Iola,

Sep 12 2013
Stranded is well-put together, and is a real page-turner, as a romantic suspense novel should be. There are plenty of characters with secrets (always a good sign), and there are some good hints of what might be coming in future books in the series. The characters are all realistic, intelligent and have some personal depth, and the romance between Darcy and Gage is well-played. Pettrey has that enviable skill of making the feelings bounce off the page without specifically telling the reader what is happening. I think that romantic subtext is one of the things that all romance writers should aspire to. Recommended for those who like romantic suspense from authors such as Susan May Warren, Irene Hannon or Diann Mills.

Thanks to Bethany House and NetGalley for providing a free ebook for review. 
{{review.title}}
By {{review.author.name}},

{{review.reviewCreatedDate | date:'MMM dd yyyy'}}

{{reviewdescription}}
{{review.text}}
---
Other Titles In The "Alaskan Courage Series" Series View All