Strangers on a Train (#02 in Nancy Drew Diaries Series)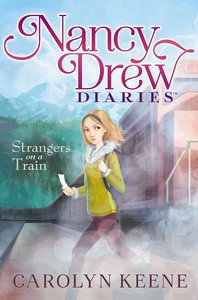 Nancy and her friends take their detective skills on an Alaskan adventure in this second book of the Nancy Drew Diaries, a fresh approach to a classic series.

Nancy's Alaskan adventure continues as she, Bess, and George disembark the mystery-plagued Arctic Star cruise ship and explore the grand sites of the forty-ninth state: Skagway; the Yukon territory, and Denali National Park. It's spectacular scenery, but things start to go wrong almost immediately, leading Nancy to believe that whoever was behind the unsolved mayhem aboard the ship has followed them onto dry land. The girl detectives had better watch their steps-they're on uncharted and unknown territory!

- Publisher
Also Available In
You May Also Be Interested In
About "Strangers on a Train (#02 in Nancy Drew Diaries Series)"
Nancy and her friends take their detective skills on an Alaskan adventure in this second book of the Nancy Drew Diaries, a fresh approach to a classic series.

Nancy's Alaskan adventure continues as she, Bess, and George disembark the mystery-plagued Arctic Star cruise ship and explore the grand sites of the forty-ninth state: Skagway; the Yukon territory, and Denali National Park. It's spectacular scenery, but things start to go wrong almost immediately, leading Nancy to believe that whoever was behind the unsolved mayhem aboard the ship has followed them onto dry land. The girl detectives had better watch their steps-they're on uncharted and unknown territory!
- Publisher


Meet the Author
Carolyn Keene
Carolyn Keene was the pseudonym used by Mildred Wirt Benson when she wrote the popular Nancy Drew Mystery series. After her graduation from the University of Iowa, Benson began writing for Edward Stratemeyer. Consequently, Benson has been credited as the author of most of the first Nancy Drew books, but Harriet Stratemeyer Adams wrote the later books and edited the ones written by Benson.
Other Titles In The "Nancy Drew Diaries Series" Series View All