Strategic Vision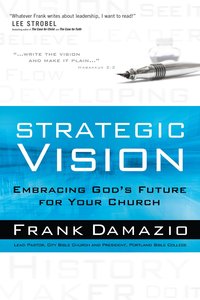 Vision is both real and definable. Strategic vision combines real and definable factors that, when mixed wisely and effectively, propels a church forward! Strategic Vision provides a clear set of directives and expectations with which an entire church strategy can be framed. The first step in forming a strategic vision is for the leader to develop a personal vision. This personal vision grows into an all-encompassing kingdom vision with every other level of vision between. From the foundation of a vision leader, all other elements of vision flow.


- Publisher
You May Also Be Interested In
About "Strategic Vision"
Vision is both real and definable. Strategic vision combines real and definable factors that, when mixed wisely and effectively, propels a church forward! Strategic Vision provides a clear set of directives and expectations with which an entire church strategy can be framed. The first step in forming a strategic vision is for the leader to develop a personal vision. This personal vision grows into an all-encompassing kingdom vision with every other level of vision between. From the foundation of a vision leader, all other elements of vision flow.

- Publisher


Meet the Author
Frank Damazio
Frank Damazio is Senior Pastor of City Bible Church, a diverse congregation meeting in multiple locations with over 5,000 people who are fervent in prayer, worship and reaching the metro-area and beyond for Christ. Damazio has authored over 25 books on church leadership and personal spiritual growth. His ability to clearly communicate the Word with power, insight, and humour allows him to reach a variety of people of all ages and backgrounds. Damazio is a graduate of Portland Bible College and holds a Master of Divinity degree from Oral Roberts University. He resides in Portland, Oregon with his wife Sharon and their four children.