Strength Renewed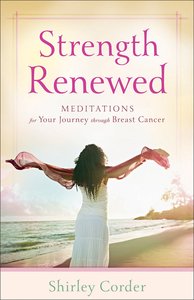 Nothing can sap a person's strength and hope quite like a cancer diagnosis--unless it is the energy-stealing chemotherapy and surgeries faced in the fight against cancer. But one can find hope and strength in the pages of Scripture and in the experience of someone who has been there.

Strength Renewed is an encouraging devotional for those living in the valley of cancer. Meditations combine Scripture and stories from the author's own experience and can be read in sequential order to move the reader through a typical cancer journey from diagnosis through treatment. Each devotion also stands on its own, so readers can go directly to the entry that speaks to their need. Each devotional includes a short prayer and a Scripture verse for encouragement.

- Publisher
You May Also Be Interested In
About "Strength Renewed"
Nothing can sap a person's strength and hope quite like a cancer diagnosis--unless it is the energy-stealing chemotherapy and surgeries faced in the fight against cancer. But one can find hope and strength in the pages of Scripture and in the experience of someone who has been there.

Strength Renewed is an encouraging devotional for those living in the valley of cancer. Meditations combine Scripture and stories from the author's own experience and can be read in sequential order to move the reader through a typical cancer journey from diagnosis through treatment. Each devotion also stands on its own, so readers can go directly to the entry that speaks to their need. Each devotional includes a short prayer and a Scripture verse for encouragement.
- Publisher


Meet the Author
Shirley Corder
Shirley Corder is a registered nurse and a breast cancer survivor who has a passion for helping others as they go through treatment. She is a contributing author to several books, including four Guideposts anthologies, and has published many devotions. She lives in South Africa.
Customer Reviews For "Strength Renewed"
Write Your Own Review
Pleasantly suprised! Quite an insight!
By Corallie Buchanan,

Apr 29 2013
I was pleasantly suprised by this book. Around the time I received my kindle copy for review purposes, a very crucial member of our church leadership was losing her battle with cancer. Our church had journeyed with her for many years as she fought the battle for cancer on and off. I never had any idea just what was going on in the mind and heart of a cancer sufferer. That was until I read this book.

Never before have I seen a book so open and honest, and frankly quite BLUNT about the trauma of cancer. Even though I have never suffered from cancer, I actually got a lot out of it. Each small devotion centres around walking with the reader through the grief process that often comes with discovering one has cancer. Each devotion is not only real, but backed up with encouragements from Scripture.

"Those who hope in the Lord will renew their strength. They will soar on wings like eagles; they will run and not grow weary, they will walk and not be faint." (Isaiah 40:31)

Corder says,

"When I received my diagnosis of cancer, I didn't know anything about eagles. I wanted to renew my strength, but how do you wait on anyone, even the Lord, when you're told you have cancer?

Over the following months, I learned much about eagles and even more about myself. I'm not naturally patient, but the eagle is, and so is the Lord. Gradually, I learned what it meant to wait on him, and each time I did, he renewed my strength. Strength Renewed contains ninety meditations based on lessons I learned during my journey in the cancer valley."

The author points to the fact that while people have survived cancer without God, it is not preferable. Cancer has not caused her to doubt God. In fact, it has been the means of strengthening her relationship with God.
But cancer doesn't just happen to people out there. It can happen to anybody. The doubts creep in, and you begin to wonder, is God really there for me? If he is, then why did he allow me to get cancer? But Corder counteracts this by saying that your cancer did not take God by suprise.

Other's in Corder's life sough reassurance from her that she would survive. Others launched into pep talks or quoted scripture at her. She couldn't find an adequate way to tell them about her cancer, and those in her life had no idea how to respond to it. To this, Corder gives good advice also.

"God is not disappointed by your fear. He doesn't scold you for your reluctance to move on.

When fears come, the key is to not condemn yourself for having them, but trust in the God who will be with you despite your fear."

Thumbs up to the author for creating such a well written and easy to read book. I would recommend this book not only to cancer patients, but families and friends of those going through cancer, or those who just want to get an insiders perspective. I would strongly recommend it for a Christian person going through cancer, as each devotion leads the reader through the grief process of discovering you have cancer, dealing with people when trying to tell them you have cancer, frustrations and misunderstandings and so on. All of the emotional processes that a cancer patient goes through are addressed in this book, from the start right to the finish of the process. Having watched one of my leaders slowly lose her battle with cancer, I now admire her strength even more. And now that my 90 year old grandfather has cancer, I now can get an insight into what he might be going through. He is not a Christian, but if I can get a copy of this book I'm intending to give it to him.



---
Strength Renewed
By Narelle Atkins,

Jan 19 2013
It seems like cancer is becoming more prevalent and, like most people, my life has been touched by the cancer diagnosis of friends and family members. I found this devotional book very inspiring and helpful in understanding the life changing journey for both the patient and their loved ones. The whole idea of receiving a cancer diagnosis is very scary, and Shirley provides honest and thought provoking insights gained from her experiences fifteen years ago.

Shirley drew strength from the Lord and held onto Biblical truths as she struggled through the good days and the bad days. The book contains ninety devotions that are easy to read and provide wisdom and encouragement from her real life experiences. She speaks with compassion as she shares her mistakes as well as her triumphs through the various stages of her journey to becoming a cancer survivor. I highly recommend this book to those who have received a cancer diagnosis or are looking to gain new insights into how they can support friends and family undergoing cancer treatment.

I received a complimentary copy of this book from the publisher.
---
Renew your strength
By Wendy,

Jan 10 2013
Strength Renewed was born out of her experience with breast cancer and desire to help others out there going through the cancer journey. It is a collection of 90 mediations that shepherd the reader through the journey, from the shock of first diagnosis through to the end of treatment.

It isn't a book about her, though she tells many short stories of her journey. It isn't a how-to book either. The book isn't a theological one, nor is it a book about healing. It relentlessly points the reader to the God who helped her through the journey. It is a practical book, it is a book that will help you walk through the fire.

Shirley was the leader of the writing critique group that took me in several years ago. I've critiqued many of her stories, some are even in this book. I enjoy her style, she writes with fresh honesty about what she's experienced, not stopping to hide her faults.

I have never had cancer, but I know that if that ever happens, I want this book by my side. If someone I know well is diagnosed, I'll be buying this book for them and their loved ones.

Oh, and by the way, this isn't just a book for the one with cancer, it will be invaluable for the spouse, children, parents or other close loved ones.
{{review.title}}
By {{review.author.name}},

{{review.reviewCreatedDate | date:'MMM dd yyyy'}}

{{reviewdescription}}
{{review.text}}
---