Stress and Your Child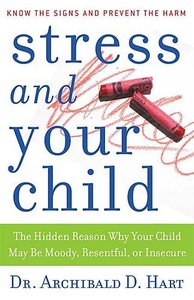 In this groundbreaking book, psychologist Archibald Hart provides down-to-earth guidance for parents and a step-by-step plan of action for stress-proofing kids. Stress can make kids moody, resentful, insecure, and even sick. This book is an invaluable resource for stress-management that will enhance kids' lives today - and may save their lives tomorrow. It offers insight on dealing with everyday stress and provides examples of simple things that can be done to safeguard against stress overload and the mental and health problems that come with too much stress.


- Publisher 176 Pages

- Publisher
You May Also Be Interested In
About "Stress and Your Child"
In this groundbreaking book, psychologist Archibald Hart provides down-to-earth guidance for parents and a step-by-step plan of action for stress-proofing kids. Stress can make kids moody, resentful, insecure, and even sick. This book is an invaluable resource for stress-management that will enhance kids' lives today - and may save their lives tomorrow. It offers insight on dealing with everyday stress and provides examples of simple things that can be done to safeguard against stress overload and the mental and health problems that come with too much stress.

- Publisher

176 Pages
- Publisher


Meet the Author
Archibald Hart
Dr. Archibald D. Hart is a clinical psychologist and senior professor of psychology and dean emeritus of the Graduate School of Psychology, Fuller Theological Seminary in Pasadena, California. He also serves as the president of the International Network for Christian Counselors. Dr. Hart is an internationally known speaker and author of twenty-four books, including Adrenalin and Stress, Stress and Your Child, Helping Children Survive Divorce, The Sexual Man and The Anxiety Cure. He and his wife, Kathleen, live very happily in Southern California, surrounded by their children and grandchildren.