Strong Women, Soft Hearts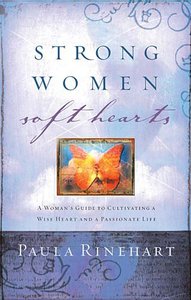 Recently updated with an expanded study guide, Strong Women, Soft Hearts has quickly become an important study for women of all ages. Through inspiring real-life testimonies, Paula Rinehart writes as both a kindred spirit and a compassionate counselor to women feeling robbed of their passions and trapped by life's disappointing realities. Women who long to be released from the burden of hard choices and perpetually empty souls will be empowered to rediscover dreams long lost and refocus energy misguided. "Strong Women, Soft Hearts cries out for women to embrace passion and approach life as something to be lived, not merely survived.

- Publisher Has the day-to-day business of living robbed you of passion and vitality? Do you sometimes find yourself wanting more - then feeling a little guilty because life isn't supposed to be just about what you want? If so, this book offers you hope and help. Paula Rinehart writes as both a kindred spirit and a compassionate counselor, using true-stories, professional insights, and her own heart-felt wisdom - plus an assortment of practical exercises and study questions - to help you: reconnect with long-lost dreams and refocus misplaced passion loosen the subtle stranglehold of your own expectations uncover the heart issues - and the healing possibilities - of your sexuality discover when, how and Whom to trust develop a vision for the 'big picture' of your life Rinehart's convincing message is that God is calling you - in your heart of hearts - to follow Him on the unpredictable, but exhilarating journey of life. This book will help you listen and say yes to that call to become the strong, wise, loving, and fulfilled woman you were always meant to be.

- Publisher
You May Also Be Interested In
About "Strong Women, Soft Hearts"
Recently updated with an expanded study guide, Strong Women, Soft Hearts has quickly become an important study for women of all ages. Through inspiring real-life testimonies, Paula Rinehart writes as both a kindred spirit and a compassionate counselor to women feeling robbed of their passions and trapped by life's disappointing realities. Women who long to be released from the burden of hard choices and perpetually empty souls will be empowered to rediscover dreams long lost and refocus energy misguided. "Strong Women, Soft Hearts cries out for women to embrace passion and approach life as something to be lived, not merely survived.
- Publisher

Has the day-to-day business of living robbed you of passion and vitality? Do you sometimes find yourself wanting more - then feeling a little guilty because life isn't supposed to be just about what you want? If so, this book offers you hope and help. Paula Rinehart writes as both a kindred spirit and a compassionate counselor, using true-stories, professional insights, and her own heart-felt wisdom - plus an assortment of practical exercises and study questions - to help you: reconnect with long-lost dreams and refocus misplaced passion loosen the subtle stranglehold of your own expectations uncover the heart issues - and the healing possibilities - of your sexuality discover when, how and Whom to trust develop a vision for the 'big picture' of your life Rinehart's convincing message is that God is calling you - in your heart of hearts - to follow Him on the unpredictable, but exhilarating journey of life. This book will help you listen and say yes to that call to become the strong, wise, loving, and fulfilled woman you were always meant to be.
- Publisher


Meet the Author
Paula Rinehart
Paula Rinehart has touched women's lives through writing, speaking, and ministry for more than twenty years. Her private counseling practice includes clients who are men and couples with a focus on personal growth and intimacy with Christ. Paula and her husband Stacy have two grown children.
Books by Paula Rinehart Better Than My Dreams: Finding What You Long For Where You Might Not Think to Look; Strong Women, Soft Hearts; A Woman's Guide to Cultivating a Wise Heart and a Passionate LifeWhat's He Really Thinking?: How to Be a Relational Genius with the Man in Your Life
Koorong -Editorial Review.