Stronger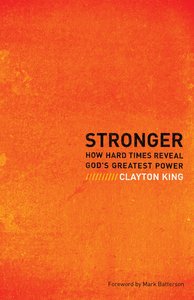 When we think of success, we think of words like bigger, more, and better. Bigger paycheck, more security, better reputation. But what if God's perspective on success was radically different than our own? What if the things we seek to avoid--pain, suffering, weakness, insecurity--were the very things he used to mold us into his image?

With insights born from his own difficult journey, Clayton King offers readers a truly liberating understanding of weakness and suffering--not as God's punishment, but as his pruning. Revealing the God who is a companion in our most difficult seasons, King shows us that when we are in Christ, our deepest pain becomes the source of our greatest power, and our times of testing become our strongest testimony. Anyone who struggles to make sense of seemingly hopeless situations will find in this book not only hope for a brighter future but purpose in their imperfect present.

- Publisher
You May Also Be Interested In
About "Stronger"
When we think of success, we think of words like bigger, more, and better. Bigger paycheck, more security, better reputation. But what if God's perspective on success was radically different than our own? What if the things we seek to avoid--pain, suffering, weakness, insecurity--were the very things he used to mold us into his image?

With insights born from his own difficult journey, Clayton King offers readers a truly liberating understanding of weakness and suffering--not as God's punishment, but as his pruning. Revealing the God who is a companion in our most difficult seasons, King shows us that when we are in Christ, our deepest pain becomes the source of our greatest power, and our times of testing become our strongest testimony. Anyone who struggles to make sense of seemingly hopeless situations will find in this book not only hope for a brighter future but purpose in their imperfect present.
- Publisher


Meet the Author
Clayton King
A pastor, evangelist, missionary, and author, Clayton King has been dedicated since age 14 to proclaiming the gospel and calling Christians to live out the life of Jesus. He has spoken to millions of people in 30-plus countries, authored Dying to Live and Amazing Encounters with God, and helped organize missions to such places as Haiti, the Himalayas, and India. Clayton loves good books, the outdoors, strong coffee, dirt bikes and four-wheelers, and especially his wife and children.