Stronger Than You Think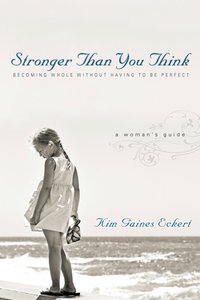 If you've known broken relationships ...If you've ever felt like you don't measure up ...If you've suspected something inside you might be missing or flawed ...This book is for you.Kim Gaines Eckert, psychologist and counselor, has spent years helping women with a variety of life issues, from self-esteem and body image to developing healthy relationships and healing from the past. At the heart of their struggle, she believes, is not the desire to be perfect, but the desire to be whole. And wholeness, she is convinced, ultimately comes only from God.In this book Kim invites you into her conversations with women. You'll discover you are not alone in your struggles, and you'll learn from her practical and proven guidance for growth and change. And because growth is always more powerful in community, each chapter includes questions for you to explore in a small group.Let Kim Gaines Eckert show how God can mend your brokenness and help you become a whole, healthy person--the woman he created you to be.

- Publisher
You May Also Be Interested In
About "Stronger Than You Think"
If you've known broken relationships ...If you've ever felt like you don't measure up ...If you've suspected something inside you might be missing or flawed ...This book is for you.Kim Gaines Eckert, psychologist and counselor, has spent years helping women with a variety of life issues, from self-esteem and body image to developing healthy relationships and healing from the past. At the heart of their struggle, she believes, is not the desire to be perfect, but the desire to be whole. And wholeness, she is convinced, ultimately comes only from God.In this book Kim invites you into her conversations with women. You'll discover you are not alone in your struggles, and you'll learn from her practical and proven guidance for growth and change. And because growth is always more powerful in community, each chapter includes questions for you to explore in a small group.Let Kim Gaines Eckert show how God can mend your brokenness and help you become a whole, healthy person--the woman he created you to be.
- Publisher


Meet the Author
Kim Gaines Eckert
Kim Gaines Eckert (Psy. D., Wheaton) is an assistant professor of psychology and counseling at Lee University, Cleveland, TN. She is also clinical director of Kids' Talk, the Lee University play therapy center. Dr Eckert is the author of Schizophrenia: Living in a different world. (Arcadia, CA: Narramore Christian Foundation) and Stronger than you think (InterVarsity Press).
Table Of Contents
If You've Known Broken Relationships ...if You've Ever Felt Like You Don't Measure Up ...if You've Suspected Something Inside You Might Be Missing Or Flawed ...this Book Is For You.kim Gaines Eckert, Psychologist And Counselor, Has Spent Years Helping Women With A Variety Of Life Issues, From Self-esteem And Body Image To Developing Healthy Relationships And Healing From The Past. At The Heart Of Their Struggle, She Believes, Is Not The Desire To Be Perfect, But The Desire To Be Whole. And Wholeness, She Is Convinced, Ultimately Comes Only From God.in This Book Kim Invites You Into Her Conversations With Women. You'll Discover You Are Not Alone In Your Struggles, And You'll Learn From Her Practical And Proven Guidance For Growth And Change. And Because Growth Is Always More Powerful In Community, Each Chapter Includes Questions For You To Explore In A Small Group.let Kim Gaines Eckert Show How God Can Mend Your Brokenness And Help You Become A Whole, Healthy Person--the Woman He Created You To Be.

part 1: Longing For Wholeness

1. Searching For Wholeness In Romance, Motherhood Or Career

why A Broken World Leaves Us Disappointed

2. Finding Wholeness In Our True Identity

relational Beings Made In God's Image

part 2: Growing Inward

3. Learning To Use Your Voice

recovering From The Negative Messages Of Girlhood

4. Negative Self-talk

how The Way We Think Affects The Way We Feel

5. When Your Emotions Get The Best Of You

growing Through Anger, Anxiety And Depression

6. Never Good Enough

building Healthy Self-esteem

7. Doing Battle With Your Body

developing A Healthy Body Image In A Toxic Body Culture

part 3: Growing Outward

8. Rethinking Female Sexuality

sexual Intimacy, Single Sexuality And Sexual Wounds

9. The Search For Connection

growing Healthy Intimate Relationships

10. Restoring Your Broken Heart

healing From Loss, Abuse And Other Relational Wounds

11. Wholly Broken. . . Yet Still Whole

reaching Out To A Hurting World

part 4: Growing In Community

Questions For Discussion And Reflection

Further Reading

Author Index

Subject Index

Scripture Index