Stupid Parents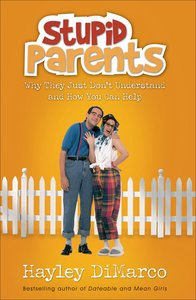 Let's face it--parents don't get it. Or at least that's what their teenaged children think. Most teens think their parents don't know anything about life--especially not teen life. That's where best-selling author and teen expert Hayley DiMarco comes in.

Stupid Parents helps teens understand how to communicate with their parents to improve their relationships. It answers common questions teens have, like

-how do I get my parents to be less embarrassing?
-how do I get them to give me more freedom?
-how do I tell my parents about things that are important to me?
-what do I do if my parents are mean to me?
-what are my parents thinking?
-and many more

Teens, parents, and youth leaders will find Stupid Parents entertaining, educational, and, like all Hungry Planet books, utterly relevant.

- Publisher
You May Also Be Interested In
About "Stupid Parents"
Let's face it--parents don't get it. Or at least that's what their teenaged children think. Most teens think their parents don't know anything about life--especially not teen life. That's where best-selling author and teen expert Hayley DiMarco comes in.

Stupid Parents helps teens understand how to communicate with their parents to improve their relationships. It answers common questions teens have, like

-how do I get my parents to be less embarrassing?
-how do I get them to give me more freedom?
-how do I tell my parents about things that are important to me?
-what do I do if my parents are mean to me?
-what are my parents thinking?
-and many more

Teens, parents, and youth leaders will find Stupid Parents entertaining, educational, and, like all Hungry Planet books, utterly relevant.
- Publisher


Meet the Author
Hayley Dimarco
Hayley DiMarco is chief creative officer and founder of Hungry Planet, where she writes and creates cutting-edge books that connect with the post-modern mind. She has written and co-written numerous bestselling books for both teens and adults, including Sexy Girls -The Evangelical Christian Publishers Christian Book Award Winner,Children/Youth Category for 2007 and Technical Virgin also one of the five finalists.
Other popular titles include Dateable, Mean Girls, Marriageable, and Stupid Parents. Before all this bestseller stuff, Hayley was the teen brand manager for Thomas Nelson, a huge Christian book publisher. Before that, she worked for a little shoe company called Nike. She still misses the free swoosh swag.