Summoned to Lead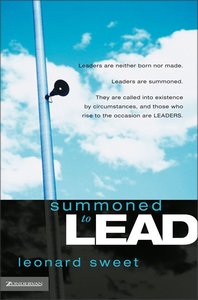 "Cast a vision, set a strategy, rally the troops, and take the hill" - you don't need another book to rehash the well-worn principles of modern leadership. But if you're looking for something different, something that. . .

approaches leadership as an art as well as a science

inspires hope and expectation in those of us who aren't born leaders

challenges those with leadership roles to explore new possibilities

. . . then Leonard Sweet wants to help you discover a very different kind of leadership vision. It's one you hear if your ears are open, and it could summon you at any time. When you respond, the puzzle pieces of who you are will fit together into a leader others follow because you've answered a call, not trained for a position.

"The church has it all wrong. It is trying to train leaders. Instead, it ought to train everyone to listen and to develop their own soundtrack."

Leaders don't see a vision, says Sweet, they hear one. "Sound becomes sight. Leaders hear life."

For a sonogram of "acoustic leadership," Sweet takes us inside the incredible account of Sir Ernest Shackleton, the celebrated polar explorer who led his entire crew of twenty-seven from disaster in the Antarctic to safety. Called "the greatest leader that ever came on God's earth, bar none," Shackleton objectifies the goals of Sweet's own exploration in search of wisdom for today and tomorrow's truly compelling, voice-activated leaders.

Right now, you may be leading many people or just yourself. But who knows what tomorrow - or a minute from now - will call forth in you? Are your ears open?


- Publisher This retelling of the story of Ernest Shackleton, who in 1914 commanded the doomed British Imperial Trans-Antarctic Expedition, showcases the fine art of leadership that emerged from his failed expedition in which, miraculously, no one died.

- Publisher
You May Also Be Interested In
About "Summoned to Lead"
"Cast a vision, set a strategy, rally the troops, and take the hill" - you don't need another book to rehash the well-worn principles of modern leadership. But if you're looking for something different, something that. . .

approaches leadership as an art as well as a science

inspires hope and expectation in those of us who aren't born leaders

challenges those with leadership roles to explore new possibilities

. . . then Leonard Sweet wants to help you discover a very different kind of leadership vision. It's one you hear if your ears are open, and it could summon you at any time. When you respond, the puzzle pieces of who you are will fit together into a leader others follow because you've answered a call, not trained for a position.

"The church has it all wrong. It is trying to train leaders. Instead, it ought to train everyone to listen and to develop their own soundtrack."

Leaders don't see a vision, says Sweet, they hear one. "Sound becomes sight. Leaders hear life."

For a sonogram of "acoustic leadership," Sweet takes us inside the incredible account of Sir Ernest Shackleton, the celebrated polar explorer who led his entire crew of twenty-seven from disaster in the Antarctic to safety. Called "the greatest leader that ever came on God's earth, bar none," Shackleton objectifies the goals of Sweet's own exploration in search of wisdom for today and tomorrow's truly compelling, voice-activated leaders.

Right now, you may be leading many people or just yourself. But who knows what tomorrow - or a minute from now - will call forth in you? Are your ears open?

- Publisher

This retelling of the story of Ernest Shackleton, who in 1914 commanded the doomed British Imperial Trans-Antarctic Expedition, showcases the fine art of leadership that emerged from his failed expedition in which, miraculously, no one died.
- Publisher


Meet the Author
Leonard Sweet
Leonard Sweet (PhD., University of Rochester), is founder and president of SpiritVenture Ministries and serves as the E. Stanley Jones Professor of Evangelism at Drew Theological School in Madison, New Jersey. He also is a Distinguished Visiting Professor at George Fox University in Newberg, Oregon, and the chief writer for preachingplus.com, a resource for pastors and other Christian speakers. A popular speaker himself, Sweet has written more than twenty books, including The Three Hardest Words, Out of the Question Into the Mystery, AquaChurch, SoulTsunami, and SoulSalsa.