Suncatchers (#01 in Derby Series)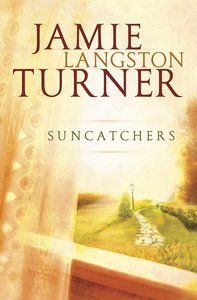 People have always fascinated sociologist Perry Warren, yet his most personal relationships--with his wife and young son--are in shambles. If his marriage crumbles, will his son be raised fatherless, just as he was? Hoping distance will offer answers, Perry accepts a writing project in the town of Derby, South Carolina, and there discovers a wealth of research--and a reason to hope--in the strange yet fascinating neighbors next door.
Eldeen Rafferty seems completely unfettered by the sorrows she has known. Instead, she embraces life in all its gritty, glorious detail, determined to leave cheer in her wake. Perry is baffled by her unending joy and her boundless gratitude, and he wonders what she might be able to offer to a life haunted by troubles...a life he is at a loss to repair on his own.

Suncatchers, Jamie Langston Turner's first novel, launched this premier novelist's journey toward recognition of her Winter Birds in Publishers Weekly's Best Books of 2006.

- Publisher
You May Also Be Interested In
About "Suncatchers (#01 in Derby Series)"
People have always fascinated sociologist Perry Warren, yet his most personal relationships--with his wife and young son--are in shambles. If his marriage crumbles, will his son be raised fatherless, just as he was? Hoping distance will offer answers, Perry accepts a writing project in the town of Derby, South Carolina, and there discovers a wealth of research--and a reason to hope--in the strange yet fascinating neighbors next door.
Eldeen Rafferty seems completely unfettered by the sorrows she has known. Instead, she embraces life in all its gritty, glorious detail, determined to leave cheer in her wake. Perry is baffled by her unending joy and her boundless gratitude, and he wonders what she might be able to offer to a life haunted by troubles...a life he is at a loss to repair on his own.

Suncatchers, Jamie Langston Turner's first novel, launched this premier novelist's journey toward recognition of her Winter Birds in Publishers Weekly's Best Books of 2006.
- Publisher


Meet the Author
Jamie Langston Turner
Jamie Langston Turner is currently a professor of creative writing and literature at Bob Jones University in South Carolina. She describes her writing as, "a journey into God's truth using the wonderful vehicle of fiction." She has had a lifelong interest in promoting God's kingdom through the written word and works from credo that, "A story can get its toe in the door where a sermon often can't." A college professor for thirty-four years, she has written extensively for a variety of periodicals. Her novels have earned both the Angel and Christy Awards. Jamie's first novel, Suncatchers, launched her journey toward recognition of her latest novel, Winter Birds, in Publisher's Weekly's Best Books of 2006: "Genuine humour and well-crafted characters make this a memorable and inspiring novel." - Publisher's Weekly. Jamie's other titles include Some Wildflower in my Heart, No Dark Valley, and By the Light of a Thousand Stars.
-Editorial Review.
Other Titles In The "Derby Series" Series