Sunday School That Really Works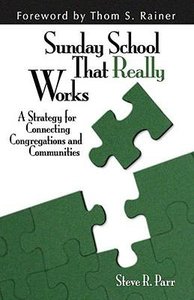 "In some of the most effective evangelistic churches, Sunday school was the program of choice. In some of the best assimilating churches, Sunday school was the glue that held the people." --from the foreword by Thom Rainer For those who declare "it doesn't work " here is a book that can stimulate, encourage, and hopefully correct the problem that many churches and pastors have declared to be the problem. Many have prophesied the demise of Sunday school however in this resource Steve Parr encourages the church to utilize a tool it has used for over a hundred years to be intentionally evangelistic. Fully inundated with proof that Sunday school can bring vitality to your church, "Sunday School that Works" aptly charges the church with reengaging its Great Commission using the tools that it has effectively.

- Publisher
You May Also Be Interested In
About "Sunday School That Really Works"
"In some of the most effective evangelistic churches, Sunday school was the program of choice. In some of the best assimilating churches, Sunday school was the glue that held the people." --from the foreword by Thom Rainer For those who declare "it doesn't work " here is a book that can stimulate, encourage, and hopefully correct the problem that many churches and pastors have declared to be the problem. Many have prophesied the demise of Sunday school however in this resource Steve Parr encourages the church to utilize a tool it has used for over a hundred years to be intentionally evangelistic. Fully inundated with proof that Sunday school can bring vitality to your church, "Sunday School that Works" aptly charges the church with reengaging its Great Commission using the tools that it has effectively.
- Publisher


Excerpt
Excerpt from: Sunday School That Really Works
"Not a small number of churchgoers think that the days of Sunday school's effectiveness as an evangelistic and assimilating arm of the church are passing quickly. I should know. I was one of theose Sunday school skeptics....I was wrong. Dead wrong."
—From the foreward by Thom Rainer