Surprise the World: The Five Habits of Highly Missional People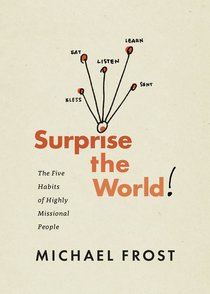 Christianity is a surprising religion. It has changed the world in remarkable ways throughout history simply through Christians living out their faith. More recently, we've become afraid of a habituated Christianity, thinking that routines will rob our faith of its vitality. The net effect is that we've replaced the habits that surprise the world with habits that mimic the world?and both we and the world suffer for it.

Integrating the five habits in the BELLS model?Bless others, Eat together, Listen to the Spirit, Learn Christ, and understand yourself as Sent by God into others? lives?will help you spread the gospel organically, graciously, and surprisingly.

Michael Frost, a world-renowned expert on evangelism and discipleship, makes evangelism a lifestyle that is fulfilling, exciting, effective, and easy to live out!

- Publisher
You May Also Be Interested In
About "Surprise the World: The Five Habits of Highly Missional People"
Christianity is a surprising religion. It has changed the world in remarkable ways throughout history simply through Christians living out their faith. More recently, we've become afraid of a habituated Christianity, thinking that routines will rob our faith of its vitality. The net effect is that we've replaced the habits that surprise the world with habits that mimic the world?and both we and the world suffer for it.

Integrating the five habits in the BELLS model?Bless others, Eat together, Listen to the Spirit, Learn Christ, and understand yourself as Sent by God into others? lives?will help you spread the gospel organically, graciously, and surprisingly.

Michael Frost, a world-renowned expert on evangelism and discipleship, makes evangelism a lifestyle that is fulfilling, exciting, effective, and easy to live out!
- Publisher


Meet the Author
Michael Frost
Michael Frost (D.Min) is Vice-Principal and Professor of Evangelism and Missions at Morling College in Sydney, Australia - and a Baptist Minister. He is the author of Exiles: Living Missionally in a Post-Christian Culture; Jesus the Fool: The Mission of the Unconventional Christ; Seeing God in the Ordinary: A Theology of the Everyday and the co-author of The Shaping of Things to Come: Innovation and Mission for the 21st-Century Church and ReJesus: A Wild Messiah for a Missional Church.
Customer Reviews For "Surprise the World: The Five Habits of Highly Missional People"
Write Your Own Review
Finally!
By YDLife,

May 25 2017
"Missions" has been so bogged down with pre-requisites and theology that people have lost a heart for it. The idea that it's a big trip overseas to some foreign country is all we think of, however this isn't the case. If heaven is out citizenship, then we are always on mission. Every single person, moment and conversation can build the kingdom. 

This book explores and defines that, while also outlaying a very practical framework for HOW to do this. It's not complicated, in fact very few could do it without using as many words and pages as Frost has done. It's a very accessible book. Get it!
---
Surprise!
By TIkvah08,

Sep 08 2016
I would say this is the most practical, down-to-earth, and simple presentation of incarnational ministry, missional evangelism, and just radiating the love of God through the ordinariness of conversation, meals and just 'doing life'. Great for those who've been bogged down with so much theology that it's lead to no action.
---
Every Day Habits for Mission
By Jono,

Aug 08 2016
Michael Frost has finally penned down a much longed for book! Frost's "BELLS" rhythm of life has been spoken about for over a decade but this book brings clarity and practicality in how others can seek to live a missional life. The five habits - bless, eat, listen, learn and sent - are clearly presented resulting in a easy reading book which will add spiritual and missional depth and meaning to everyday activities. 
{{review.title}}
By {{review.author.name}},

{{review.reviewCreatedDate | date:'MMM dd yyyy'}}

{{reviewdescription}}
{{review.text}}
---