Surprised By Oxford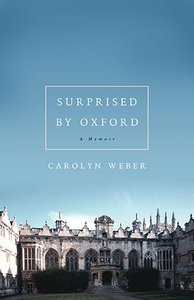 "Well written, often poignant and surprisingly relatable." - Kirkus Reviews

"A hugely readable journey of cultural and spiritual discovery, sparkling with wit and wisdom." - Alister McGrath

"Carolyn Weber's memoir reads like a fast-paced novel. I loved the humor, skillful use of language and her compelling account of her steps to finding God at Oxford. I was totally captivated from beginning to end." - Marilyn Meberg

Surprised by Oxford is the memoir of a skeptical agnostic who comes to a dynamic personal faith in God during graduate studies in literature at Oxford University.

Carolyn Weber arrives at Oxford a feminist from a loving but broken family, suspicious of men and intellectually hostile to all things religious. As she grapples with her God-shaped void alongside the friends, classmates, and professors she meets, she tackles big questions in search of Truth, love, and a life that matters.

From issues of fatherhood, feminism, doubt, doctrine, and love, Weber explores the intricacies of coming to faith with an aching honesty and insight echoing that of the poets and writers she studied. Rich with illustration and literary references, Surprised by Oxford is at once gritty and lyrical; both humorous and spiritually perceptive. This savvy, credible account of Christian conversion and its after-effects follows the calendar year and events of the school year as it entertains, informs, and promises to engage even the most skeptical and unlikely reader.

"Surprised by Oxford is a sprightly contribution to the genre of spiritual memoirs in the vein of C.S. Lewis's Surprised by Joy and Lauren F. Winner's Girl Meets God. Carolyn Weber is an unconventional thinker whose engagingly told faith journey will speak to folks who still believe that thoughtful people cannot be Christian." - Lyle W. Dorsett

- Publisher
You May Also Be Interested In
About "Surprised By Oxford"
"Well written, often poignant and surprisingly relatable." - Kirkus Reviews

"A hugely readable journey of cultural and spiritual discovery, sparkling with wit and wisdom." - Alister McGrath

"Carolyn Weber's memoir reads like a fast-paced novel. I loved the humor, skillful use of language and her compelling account of her steps to finding God at Oxford. I was totally captivated from beginning to end." - Marilyn Meberg

Surprised by Oxford is the memoir of a skeptical agnostic who comes to a dynamic personal faith in God during graduate studies in literature at Oxford University.

Carolyn Weber arrives at Oxford a feminist from a loving but broken family, suspicious of men and intellectually hostile to all things religious. As she grapples with her God-shaped void alongside the friends, classmates, and professors she meets, she tackles big questions in search of Truth, love, and a life that matters.

From issues of fatherhood, feminism, doubt, doctrine, and love, Weber explores the intricacies of coming to faith with an aching honesty and insight echoing that of the poets and writers she studied. Rich with illustration and literary references, Surprised by Oxford is at once gritty and lyrical; both humorous and spiritually perceptive. This savvy, credible account of Christian conversion and its after-effects follows the calendar year and events of the school year as it entertains, informs, and promises to engage even the most skeptical and unlikely reader.

"Surprised by Oxford is a sprightly contribution to the genre of spiritual memoirs in the vein of C.S. Lewis's Surprised by Joy and Lauren F. Winner's Girl Meets God. Carolyn Weber is an unconventional thinker whose engagingly told faith journey will speak to folks who still believe that thoughtful people cannot be Christian." - Lyle W. Dorsett
- Publisher


Meet the Author
Carolyn Weber
Carolyn Weber holds her BA from the University of WesternOntario and her M.Phil and D.Phil degrees from Oxford University. She has beenAssociate Professor of Romantic Literature at Seattle University; she has alsotaught at Westmont College, University of San Francisco and Oxford University.Carolyn and her husband share the joy of parenting three spirited children inSanta Barbara, CA and London, Canada.  Find her online at www.pressingsave.com.
Customer Reviews For "Surprised By Oxford"
Write Your Own Review
Encouraging
By Ibu Guru,

Apr 09 2016
I am always interested in people's stories of how they came to faith.  This one gives encouragement to those who, like TDH, are called upon to answer multitudes of questions by seekers.  Very satisfying ending.
{{review.title}}
By {{review.author.name}},

{{review.reviewCreatedDate | date:'MMM dd yyyy'}}

{{reviewdescription}}
{{review.text}}
---