Surprised By the Voice of God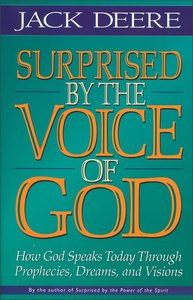 If You Believe Miraculous Gifts Have Ceased, You're in for a Big Surprise! What caused a former Dallas Seminary professor to believe that the miraculous gifts of the Holy Spirit are being given today? What convinced someone skeptical about miracles that God still speaks and heals? A dramatic change took place in Jack Deere's life when he took a fresh look at the Scriptures. He discovered that his arguments against miraculous gifts were based more on prejudice and lack of personal experience than on the Bible. As soon as Deere became a seeker instead of a skeptic, the Holy Spirit revealed himself in new and surprising ways. In Surprised by the Power of the Spirit, Deere provides a strong biblical defense for the Spirit's speaking and healing ministries today. He also describes several reliable cases of people who were miraculously healed or who heard God speak in an unmistakable way. Finally, he gives sound advice for using spiritual gifts in the church. Written in a popular style, with the care of a scholar but the passion of personal experience, this book explores: - The real reason Christians do not believe in miraculous gifts - Responding to Charismatic abuses - Were miracles meant to be temporary? - Why God still heals "'Must' reading for all Bible-believing Christians. I wish with all my heart I could place it in the hands of every conservative evangelical." - James Robison, Life Outreach International
- Publisher
You May Also Be Interested In
About "Surprised By the Voice of God"
If You Believe Miraculous Gifts Have Ceased, You're in for a Big Surprise! What caused a former Dallas Seminary professor to believe that the miraculous gifts of the Holy Spirit are being given today? What convinced someone skeptical about miracles that God still speaks and heals? A dramatic change took place in Jack Deere's life when he took a fresh look at the Scriptures. He discovered that his arguments against miraculous gifts were based more on prejudice and lack of personal experience than on the Bible. As soon as Deere became a seeker instead of a skeptic, the Holy Spirit revealed himself in new and surprising ways. In Surprised by the Power of the Spirit, Deere provides a strong biblical defense for the Spirit's speaking and healing ministries today. He also describes several reliable cases of people who were miraculously healed or who heard God speak in an unmistakable way. Finally, he gives sound advice for using spiritual gifts in the church. Written in a popular style, with the care of a scholar but the passion of personal experience, this book explores: - The real reason Christians do not believe in miraculous gifts - Responding to Charismatic abuses - Were miracles meant to be temporary? - Why God still heals "'Must' reading for all Bible-believing Christians. I wish with all my heart I could place it in the hands of every conservative evangelical." - James Robison, Life Outreach International
- Publisher
Meet the Author
Jack Deere
Jack Deere Th.D., (Dallas) is currently the senior pastor of Wellspring Church in North Richland Hills, Texas. In 1976, he was invited to join the faculty of Dallas Seminary teaching Hebrew and books of the Bible in Hebrew. During his tenure at Dallas Seminary, he started and pastored two churches. In 1986 after months of concentrated scriptural study, Jack reversed his position on the supernatural gifts of the Holy Spirit. He became convinced that all of the gifts of the Spirit were meant to be used today, including healing and prophecy. God had never withdrawn these gifts, rather many in the church had withdrawn from the gifts.He has written best selling books Surprised by the Power of the Spirit, Surprised by the Voice of God and The Gift of Prophecy, which have been translated into a number of languages He travels national and internationally doing conferences on many themes. He serves on the boards of a number of Christian ministries.