Surrendered Love (#02 in Amish Of Webster County Series)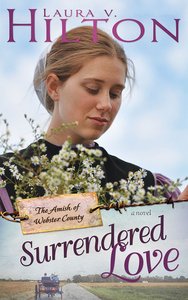 Janna Kauffman enjoys her job as a personal shopper for the homebound in her Amish community. But when Janna's niece, Meghan, comes to live with her family, part of a plan by Janna's sister to rid her daughter of her rebellious ways, Janna spends less time shopping and more time explaining Meghan's erratic behavior to local police officer Hiram "Troy" Troyer, who was raised Amish but left the faith after a fatal accident that killed his brother and also a brother of Janna's. Frequent interactions draw Janna and Troy together, rekindling an attraction they first experienced in their youth. What will become of their relationship? And will headstrong Meghan ever tame her ways?

- Publisher
You May Also Be Interested In
About "Surrendered Love (#02 in Amish Of Webster County Series)"
Janna Kauffman enjoys her job as a personal shopper for the homebound in her Amish community. But when Janna's niece, Meghan, comes to live with her family, part of a plan by Janna's sister to rid her daughter of her rebellious ways, Janna spends less time shopping and more time explaining Meghan's erratic behavior to local police officer Hiram "Troy" Troyer, who was raised Amish but left the faith after a fatal accident that killed his brother and also a brother of Janna's. Frequent interactions draw Janna and Troy together, rekindling an attraction they first experienced in their youth. What will become of their relationship? And will headstrong Meghan ever tame her ways?
- Publisher


Table Of Contents
Janna Kauffman Enjoys Her Job As A Personal Shopper For The Homebound In Her Amish Community. But When Janna's Niece, Meghan, Comes To Live With Her Family, Part Of A Plan By Janna's Sister To Rid Her Daughter Of Her Rebellious Ways, Janna Spends Less Time Shopping And More Time Explaining Meghan's Erratic Behavior To Local Police Officer Hiram "troy" Troyer, Who Was Raised Amish But Left The Faith After A Fatal Accident That Killed His Brother And Also A Brother Of Janna's. Frequent Interactions Draw Janna And Troy Together, Rekindling An Attraction They First Experienced In Their Youth. What Will Become Of Their Relationship? And Will Headstrong Meghan Ever Tame Her Ways?
Other Titles In The "Amish Of Webster County" Series