Surviving a Spiritual Mismatch in Marriage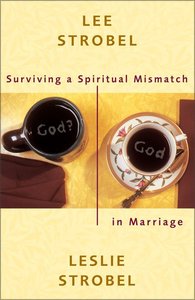 Leslie's decision to follow Christ brought heated opposition from her husband. Over time, she learned how to survive their spiritual mismatch. Today they're both Christians. This personal, practical book offers invaluable insights and guidance.
You May Also Be Interested In
About "Surviving a Spiritual Mismatch in Marriage"
Leslie's decision to follow Christ brought heated opposition from her husband. Over time, she learned how to survive their spiritual mismatch. Today they're both Christians. This personal, practical book offers invaluable insights and guidance.
- Koorong

Someone came between Lee and Leslie Strobel, threatening to shipwreck their marriage. No, it wasn't an old flame. It was Jesus Christ.Leslie's decision to become a follower of Jesus brought heated opposition from her skeptical husband. They began to experience conflict over a variety of issues, from finances to child-rearing. But over time, Leslie learned how to survive a spiritual mismatch. Today they're both Christians--and they want you to know that there is hope if you're a Christian married to a nonbeliever. In their intensely personal and practical book, they reveal: * Surprising insights into the thinking of non-Christian spouses* A dozen steps toward making the most of your mismatched marriage* Eight principles for reaching out to your partner with the gospel* Advice for raising your children in a spiritually mismatched home* How to pray for your spouse--plus a 30-day guide to get you started* What to do if you're both Christians but one lags behind spiritually* Advice for sin
- Publisher

The author of "The Case for Christ" now presents thoughts on the spiritual aspects of marriage.
- Publisher


Meet the Authors
Lee Strobel
Atheist-turned-Christian, Lee Strobel is the former award-winning legal affairs editor of The Chicago Tribune. He holds a Master of Studies in Law degree, as well as a journalism degree and was a professional journalist for 14 years, winning Illinois' top honours for investigative reporting and public service journalism from United Press International.

In 1981, after a two-year investigation of the evidence for Jesus, Lee received Christ as his Saviour, and subsequently became a teaching pastor at two of America's largest churches - Willow Creek Community Church, Chicago in 1987 and Saddleback Valley Community Church, California in 2000. In 2002 he left Saddleback's staff to focus on writing.

A New York Times best-selling author of nearly 20 books, he has been described by the Washington Post as "one of the evangelical community's most popular apologists." His journey from atheism to faith has been documented in the Gold Medallion-winning books The Case for Christ, Inside the Mind of Unchurched Harry and Mary and The Case for Faith.

His other best-sellers include Surviving a Spiritual Mismatch in Marriage, which he co-authored with his wife, Leslie; God's Outrageous Claims and What Jesus Would Say? Lee also shared the prestigious ECPA Jordon Christian Book of the Year award in 2005 for a curriculum he co-authored about the movie The Passion of the Christ.

Lee is also co-author of the Becoming a Contagious Christian training curriculum, which is used around the world. And his articles have been published in a variety of magazines, including Discipleship Journal, Marriage Partnership, The Christian Research Journal, Guideposts, and Decision. He is also a contributing editor and columnist for Outreach on-line magazine.

Lee and Leslie have been married for 33 years and live in Southern California. They have a daughter, Alison, and son Kyle who is married to Kellie, both Alison and Kyle are writers.
- Koorong
Leslie Strobel
-
Table Of Contents
How Leslie And I Wrote This Book 9

Part 1:the Challenge Of A Mismatched Marriage

1. Entering Into The Mismatch 13

2. In Leslie's Words: A Story Of Loneliness, Fear,

Perseverance, Faith 29

3. In Lee's Words: A Story Of Anger, Resentment,

Conviction, Renewal 42

Part 2:making The Most Of Your Mismatched Marriage

4. The Players: God, Your Spouse, And A Mentor 59

5. Giving Your Spouse What God Gave You 82

6. The Chill, The Children,

And The Most Challenging Question 101

Part 3:your Marriage As A Mission Field

7. Before You Tell Your Spouse About God 121

8. What To Say When Words Are Hard To Find 140

9. The Power Of A Praying Spouse 162

Part 4:managing Other Mismatches

10. Avoiding The Dating Traps 185

11. When Christians Are Out Of Sync 207

Conclusion: Into The Future Of Your Mismatch 225

Notes 232

Appendix 1: Your 30-day Prayer Adventure 241

Appendix 2: Application Guide 257

Appendix 3: Resource Guide 267

Appendix 4: A Letter To Your Spouse: Dear Friend . . . 270
Excerpt
Excerpt from: Surviving a Spiritual Mismatch in Marriage
Entering into the Mismatch THE WEATHER WAS CRISP AND CLEAR ON THE DAY AFTER CHRISTMAS 1966 when my friend Pete and I took the train from our suburban homes into downtown Chicago. We wandered around the Loop for a while, reveling in the bustle of the city, but then came time for me to bring him on a pilgrimage that I took as often as I could. Fighting the wind, we trudged across the Michigan Avenue bridge and stopped in front of the Wrigley Building. There we stood, our hands shoved into our pockets for warmth, as we gazed across the street at the gothic majesty of Tribune Tower. I can't remember whether I muttered the word aloud or if it merely echoed in my mind: 'Someday.' Pete was quiet. High school freshmen are entitled to their dreams. We lingered for a few minutes and watched as people flowed in and out of the newspaper office. Were they the reporters whose bylines I studied every morning? Or the editors who dispatched them around the world? Or the printers who manned the gargantuan presses? I let my imagination run wild---until Pete's patience wore thin. We turned and walked up the Magnificent Mile, browsing through the overpriced and pretentious shops, until we decided to embark on the twenty-minute walk back to the train station. As we passed in front of the Civic Opera House, though, I heard a familiar voice beckon from the crowd. 'Hey, Lee, what're you doing here?' called Clay, another high school student who lived in my neighborhood. I didn't answer right away. I was too captivated by the girl at his side, holding his hand and wearing his gold engraved ID bracelet. Her brown hair cascaded to her shoulders; her smile was at once coy and confident. 'Uh, well, um . . . just hanging around,' I managed to say to Clay, though my eyes were riveted on his date. By the time he introduced us to Leslie, I wasn't thinking much about Clay or Pete or the fact that my hands were getting numb from the cold and I was standing ankle-deep in soot-encrusted snow. I made sure, however, to pay close attention when Clay pronounced Leslie's name; I knew I'd need the proper spelling to look it up in the phone book. After all, everything's fair in love and war. From Fairytale to Nightmare As for Leslie, I found out later that she wasn't thinking about Clay as the two of them rode the train home that afternoon. When she arrived at her house in suburban Palatine, she strolled into the kitchen and found her mother, a Scottish war bride, busily preparing dinner. 'Mom,' she announced, 'today I met the boy I'm going to marry!' The response wasn't what she expected. Her mother barely looked up from the pot she was stirring. In a voice mixed with condescension and skepticism, she replied dismissively: 'That's nice, dear.' But there was no doubt in Leslie's mind. Nor in mine. When I called her the next night from a pay-phone outside a gas station near my house (with four brothers and sisters, that was the only way I could get some privacy), we talked as if we had known each other for years. People like to debate whether there's such a thing as love at first sight; for us, the issue had been settled once and for all. Leslie and I dated almost continuously throughout high school, and when I went off to study journalism at the University of Missouri, she moved there so we could be close to each other. We got married when I was twenty and she was nineteen. After I graduated we moved to Chicago, where my lifelong dream of becoming a reporter at the Chicago Tribune was realized. Leslie, meanwhile, began her career at a savings and loan association across the street from my newspaper office. We lived a fairy-tale life. We enjoyed the exhilaration and challenge of climbing the corporate ladder while residing in an exciting, upscale neighborhood. Leslie became pregnant with our first child, a girl we named Alison, and then later gave birth to a son, Kyle. Buoyed by our deep love for each other, our marriage was strong and secure---until someone came between us, threatening to shipwreck our relationship and land us in divorce court. It wasn't an affair. It wasn't the resurfacing of an old flame. Instead, the someone who nearly capsized our marriage was none other than God himself. At least, that's who I blamed at the time. Ironically, it was faith in Jesus Christ---which most couples credit for contributing to the strength of their marriage---that very nearly destroyed our relationship and split us apart forever. All because of a spiritual mismatch. A Marriage Without God I can describe God's role in our courtship and early marriage in one sentence: He just wasn't on our radar screen. In other words, he was irrelevant. Personally, I considered myself an atheist. I had rejected the idea of God after being taught in high school that Darwin's theory pleasure. As for Christians, I tended to dismiss them as naive and uncritical thinkers who needed a crutch of an imaginary deity to get them through life. Leslie, on the other hand, would probably have considered herself an agnostic. While I tended to react with antagonism toward people of faith, she was more in spiritual neutral. She had little church influence growing up, although she has fond child-hood memories of her mother gently singing traditional hymns to her while she tucked her in at night. For Leslie, God was merely an abstract idea that she had never taken the time to explore. Without God in my life, I lacked a moral compass. My character slowly became corroded by my success-at-any-cost mentality. My anger would flash because of my free-floating frustration at not being able to find the fulfillment I craved. My drinking binges got out of control a little too often, and I worked much too hard at my job, in effect making my career into my god.