Sweet Mercy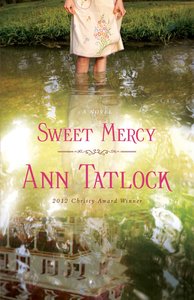 Stunning New Novel from Award-Winning Author

When Eve Marryat's father is laid off from the Ford Motor Company in 1931, he is forced to support his family by leaving St. Paul, Minnesota, and moving back to his Ohio roots. Eve's uncle Cyrus has invited the family to live and work at his Marryat Island Ballroom and Lodge.

St. Paul seemed like a haven for gangsters, and Eve had grown fearful of living there. At seventeen, she considers her family to be "good people." They aren't lawbreakers and criminals like so many people in her old neighborhood. Thrilled to be moving to a "safe haven," Eve is blissfully unaware that her uncle's lodge is a transfer station for illegal liquor smuggled from Canada.

Eve settles in to work and makes new friends, including an enigmatic but affecting young man. But when the reality of her situation finally becomes clear, Eve is faced with a dilemma. How can she ignore what is happening right under their very noses? Yet can she risk everything by condemning the man whose love and generosity is keeping her and her family from ruin?

- Publisher
You May Also Be Interested In
About "Sweet Mercy"
Stunning New Novel from Award-Winning Author

When Eve Marryat's father is laid off from the Ford Motor Company in 1931, he is forced to support his family by leaving St. Paul, Minnesota, and moving back to his Ohio roots. Eve's uncle Cyrus has invited the family to live and work at his Marryat Island Ballroom and Lodge.

St. Paul seemed like a haven for gangsters, and Eve had grown fearful of living there. At seventeen, she considers her family to be "good people." They aren't lawbreakers and criminals like so many people in her old neighborhood. Thrilled to be moving to a "safe haven," Eve is blissfully unaware that her uncle's lodge is a transfer station for illegal liquor smuggled from Canada.

Eve settles in to work and makes new friends, including an enigmatic but affecting young man. But when the reality of her situation finally becomes clear, Eve is faced with a dilemma. How can she ignore what is happening right under their very noses? Yet can she risk everything by condemning the man whose love and generosity is keeping her and her family from ruin?
- Publisher


Meet the Author
Ann Tatlock
Ann Tatlock is the author of the Christy Award-winning novel All the Way Home. She has also won the Midwest Independent Publishers Association "Book of the Year" in fiction for both All the Way Home and I'll Watch the Moon. Her novel Things We Once Held Dear received a starred review from Library Journal and Publishers Weekly calls her "one of Christian fiction's better wordsmiths, and her lovely prose reminds readers why it is a joy to savor her stories." Ann lives with her husband and daughter in Asheville, North Carolina and her most recent novel is Every Secret Thing.