Sweet Sanctuary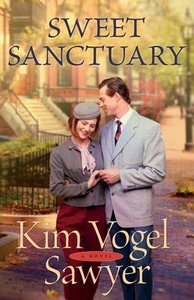 A Story of Hope and Love from Bestselling Author Kim Vogel Sawyer

Lydia Eldredge longs to provide a sanctuary for her son, Nicky. But a constant threat comes from Nicky's drug-addicted father, who wants the boy and seems willing to do whatever it takes to get him.

Dr. Micah Hatcher serves the immigrant population in Queens, but under cover of darkness he provides another service that must not be discovered lest his and his brother's lives be in danger.

When Lydia and Micah's paths cross, they are suddenly wrapped up in each other's callings. Through unforeseen twists and turns, they seek a refuge of safety--for Nicky, for themselves, and for the needy people God unexpectedly puts in their lives.

- Publisher
You May Also Be Interested In
About "Sweet Sanctuary"
A Story of Hope and Love from Bestselling Author Kim Vogel Sawyer

Lydia Eldredge longs to provide a sanctuary for her son, Nicky. But a constant threat comes from Nicky's drug-addicted father, who wants the boy and seems willing to do whatever it takes to get him.

Dr. Micah Hatcher serves the immigrant population in Queens, but under cover of darkness he provides another service that must not be discovered lest his and his brother's lives be in danger.

When Lydia and Micah's paths cross, they are suddenly wrapped up in each other's callings. Through unforeseen twists and turns, they seek a refuge of safety--for Nicky, for themselves, and for the needy people God unexpectedly puts in their lives.
- Publisher


Meet the Author
Kim Vogel Sawyer
Bestselling, award-winning author Kim Vogel Sawyer wears many hats besides 'writer.' As a wife, mother, grandmother, and active participant in her church, her life is happily full. But Kim's passion lies in writing stories of hope that encourage her readers to place their lives in God's capable hands. An active speaking ministry assists her with her desire. Kim and her husband make their home on the beautiful plains of Kansas, the setting for many of Kim's novels.