Sweetwater Run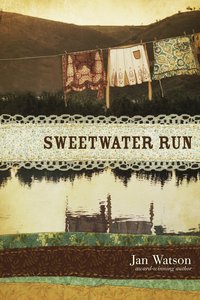 In 1891 in the mountains of eastern Kentucky, two young women stand at a crossroads. Both are protégées of the same mentor, Copper Brown, yet they couldn't be more different. Darcy Whitt falls in love with the town's handsome yet unscrupulous attorney who plots to take not only Darcy's land but that of her sister as well. Meanwhile, her beautiful sister-in-law, Cara Whitt, suddenly finds herself alone and afraid, living in a rickety cabin on the backside of nowhere. As they struggle with the realities of life, both women learn to rely on their faith above all else.

- Publisher
You May Also Be Interested In
About "Sweetwater Run"
In 1891 in the mountains of eastern Kentucky, two young women stand at a crossroads. Both are protégées of the same mentor, Copper Brown, yet they couldn't be more different. Darcy Whitt falls in love with the town's handsome yet unscrupulous attorney who plots to take not only Darcy's land but that of her sister as well. Meanwhile, her beautiful sister-in-law, Cara Whitt, suddenly finds herself alone and afraid, living in a rickety cabin on the backside of nowhere. As they struggle with the realities of life, both women learn to rely on their faith above all else.
- Publisher


Meet the Author
Jan Watson
Jan Watson won the 2004 Christian Writers Guild Operation First Novel contest for her first novel, Troublesome Creek. Her other awards include a nomination for the Kentucky Literary Award in 2006 and second place in the 2006 Inspirational Readers Choice Contest sponsored by the Faith, Hope, and Love Chapter of the Romance Writers of America. Willow Springs and Torrent Falls are the sequels to Troublesome Creek. Jan was a registered nurse for 25 years at Central Baptist Hospital in Lexington, Kentucky. She incorporated her nursing experience in the hospital's mother/baby unit into her novels. Jan resides in Kentucky. Her most recent novel is Sweetwater Run.