Swept Away (#01 in Trouble In Texas Series)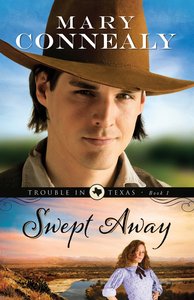 Laughter, Romance, and Action Abound in This New Series from Mary Connealy

Swept away when her wagon train attempts a difficult river crossing, Ruthy MacNeil isn't all that upset at being separated from the family who raised her. All they've ever done is work her to the bone. She prayed for a chance to get away, and then came the raging flood. Alive but disoriented, she's rescued by Luke Stone...so unfortunately, there are more chances to die in her immediate future.

Luke is heading home to reclaim the ranch stolen from his family. But the men who killed his father are working hard to ensure Luke doesn't make it alive. He has no choice but to keep moving. Still, he can't just abandon Ruthy, so she'll have to come along.

His friends--a ragtag group of former Civil War soldiers--take a fast interest in the pretty gal. Luke thinks that's rather rude--he's the one who found her. And the more time he spends around the hard-working young woman who is a mighty good cook, the more he finds himself thinking beyond revenge and toward a different future. For the first time in a long time, Luke is tempted to turn from his destructive path and be swept away by love.

- Publisher
You May Also Be Interested In
About "Swept Away (#01 in Trouble In Texas Series)"
Laughter, Romance, and Action Abound in This New Series from Mary Connealy

Swept away when her wagon train attempts a difficult river crossing, Ruthy MacNeil isn't all that upset at being separated from the family who raised her. All they've ever done is work her to the bone. She prayed for a chance to get away, and then came the raging flood. Alive but disoriented, she's rescued by Luke Stone...so unfortunately, there are more chances to die in her immediate future.

Luke is heading home to reclaim the ranch stolen from his family. But the men who killed his father are working hard to ensure Luke doesn't make it alive. He has no choice but to keep moving. Still, he can't just abandon Ruthy, so she'll have to come along.

His friends--a ragtag group of former Civil War soldiers--take a fast interest in the pretty gal. Luke thinks that's rather rude--he's the one who found her. And the more time he spends around the hard-working young woman who is a mighty good cook, the more he finds himself thinking beyond revenge and toward a different future. For the first time in a long time, Luke is tempted to turn from his destructive path and be swept away by love.
- Publisher


Meet the Author
Mary Connealy
"Mary Connealy " " " "Mary lives on a Nebraska ranch with her husband, Ivan, and has four grown daughters: Joslyn (married to Matt), Wendy, Shelly (married to Aaron), and Katy. And she is the grandmother of two beautiful grandchildren.
Customer Reviews For "Swept Away (#01 in Trouble In Texas Series)"
Write Your Own Review
Nice enough
By Hannah,

Aug 24 2015
While this was a nice story, it never really gripped me. I found myself skipping pages, just wanting to get to the end to find out what happened. The story was interesting enough and the characters sweet but it didn't pull me in or make me really care about the characters or their lives. That said, if you're looking for an easy story to read and don't mind a bit of vengeancejustice (and characters singly focused on getting it), you'd probably like it. 

---
Fun start to new series
By Iola,

Mar 27 2013
Swept Away is fast paced and well written with strong characters and a good mix of action, humour and romance. Ruthy is feisty, hard-working and independent, while Luke is the kind of loyal ad honest Wild West hero everyone wants to read about. My main complaint is that the faith elements are pretty unobtrusive. My personal view is that this is a weakness, but I know some readers prefer low-key Christian content. 

Swept Away is a quick and entertaining read, perfect for long winter evenings or a day at the beach. It was good, but not outstanding. I thought the whole story (especially the attraction between Ruthy and Luke) moved too quickly and wasn't quite believable, but it will be interesting to see it develop further in future books. I also thought it focused too much on the external conflict, with too little insight into the inner motivations of the characters.

It is the first book in the new Trouble in Texas series, and those who have read and enjoyed Mary Connealy's earlier books will notice the references to Callie and the Kincaid Brides trilogy. I expect the future books in the series will chronicle the adventures and romances of the other four Regulators. 

Thanks to Bethany House and NetGalley for providing a free ebook for review. 
---
Always Swept Away
By Jessica R Wakefield,

Mar 17 2013
It's been a while since I read a Mary Connealy book and I've missed the action, romance and humor that is her trademark. I really enjoyed getting sucked into the action and watching the humorous antics of everyone involved. Even when things get a little dramatic, there's the wry humor buried there. Ruthy is a very funny character and really, she's pulling Luke along for the ride, even though he thinks it's the other way around.

Mary, you might have sparked my interest back into western historical fiction...that's hard since I'm waist deep into contemporary suspense romance fiction...but I'm feeling the pull to pick up another western...it might just be your next book in this series...which looks great by the way!

So if you're wanting action, romance and humor this is the book for you. 
{{review.title}}
By {{review.author.name}},

{{review.reviewCreatedDate | date:'MMM dd yyyy'}}

{{reviewdescription}}
{{review.text}}
---
Other Titles In The "Trouble In Texas Series" Series