Switch on Your Brain: The Key to Peak Happiness, Thinking, and Health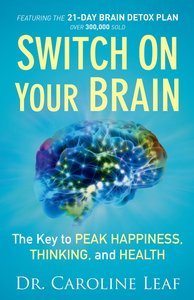 According to researchers, the vast majority--a whopping 75-98 percent--of the illnesses that plague us today are a direct result of our thought life. What we think about truly affects us both physically and emotionally. In fact, fear alone triggers more than 1,400 known physical and chemical responses in our bodies, activating more than thirty different hormones! Today our culture is undergoing an epidemic of toxic thoughts that, left unchecked, create ideal conditions for illnesses.

Supported by current scientific and medical research, Dr. Caroline Leaf gives readers a prescription for better health and wholeness through correct thinking patterns, declaring that we are not victims of our biology. She shares with readers the "switch" in our brains that enables us to live happier, healthier, more enjoyable lives where we achieve our goals, maintain our weight, and even become more intelligent. She shows us how to choose life, get our minds under control, and reap the benefits of a detoxed thought life.

- Publisher
You May Also Be Interested In
About "Switch on Your Brain: The Key to Peak Happiness, Thinking, and Health"
According to researchers, the vast majority--a whopping 75-98 percent--of the illnesses that plague us today are a direct result of our thought life. What we think about truly affects us both physically and emotionally. In fact, fear alone triggers more than 1,400 known physical and chemical responses in our bodies, activating more than thirty different hormones! Today our culture is undergoing an epidemic of toxic thoughts that, left unchecked, create ideal conditions for illnesses.

Supported by current scientific and medical research, Dr. Caroline Leaf gives readers a prescription for better health and wholeness through correct thinking patterns, declaring that we are not victims of our biology. She shares with readers the "switch" in our brains that enables us to live happier, healthier, more enjoyable lives where we achieve our goals, maintain our weight, and even become more intelligent. She shows us how to choose life, get our minds under control, and reap the benefits of a detoxed thought life.
- Publisher


Meet the Author
Caroline Leaf
Dr Caroline Leaf received her training in Communication Pathology (BSC Logopaedics) at the University of Cape Town, South Africa. She also holds a Masters degree and PhD in Communication Pathology from the University of Pretoria, South Africa. Since 1981, Caroline has researched the human brain with particular emphasis on unlocking its vast, untapped potential. She has focused on the cognitive neuroscientific aspects of TBI/CHI (Traumatic brain injury / Closed head injury) and the science of thought as it relates to thinking, learning, renewing the mind, gifting and potential.

Caroline has been enthusiastically received all over the world by a variety of audiences, due to her unique ability to link the scientific principles of the brain to intellectual and emotional issues in simple and practical ways. Through years of research, she developed the Geodesic Learning theory (brain-compatible learning), which is a scientifically and statistically proven approach to thinking, teaching, and learning. She has also developed the unique Switch On Your Brain 5-Step Learning Process and the Metacognitive-Map as a learning tool, and she has presented these techniques to more than 100,000 students worldwide.
Caroline has published articles in academic journals and consumer magazines and has been widely interviewed by newspapers, and on radio and television about her research and theories. She frequently lectures to both Christian and secular audiences worldwide on diverse topics relating to optimal brain performance, including:
- Thinking and learning,
- Controlling your thought life,
- Managing stress,
- Eradicating toxic thoughts,
- Overcoming mental, emotional, and spiritual strongholds,
- Understanding male and female brain differences,
- Applying wisdom
- Identifying your unique gifts

Customer Reviews For "Switch on Your Brain: The Key to Peak Happiness, Thinking, and Health"
Write Your Own Review
Fascinating
By Kate,

Sep 04 2017
I am forever fascinated with the way God details every part of his creation and this book reflects another element of the intricacies of God's design for our bodies. 
---
Renewing your mind for Christ
By Drew,

Jul 04 2017
Caroline Leaf shows that her program of taking wrong thoughts and replacing them with truth will physically erase that thought or memory-and its associated emotions-in the brain and will change the physical structure of the brain to accommodate the true replacement thought and emotion.  This is not a time-consuming project, taking less than 10 minutes of directed effort a day. However, it does require concentration and deep commitment.
Practical take-home thoughts:
1. Take the Bible seriously, memorize it, and obey it, for 'as a man thinks, so he is'.
2. Allow time for prayer and reflection.
3. Remember that you are not a helpless victim but have a valid and real responsibility to think and act as God tells you to.

Also Theologically: Although Caroline Leaf talks about free will and choice, this is not a contribution to the 'can you choose to be saved?' controversy.  She is talking to Christians, already saved, about our responsibility, as Christians guided by the Holy Spirit, to choose to obey God in the practical everyday moments of life.  She is countering the unbiblical idea that Christians are totally helpless is taking control of things like your mind.
'Switch On Your Brain' is not an easy read, and as I mentioned before, it certainly has its issues.  However, this book is an important contribution to the Christian understanding of neuroscience and renewing your mind for Christ.
---
Improved
By YDLife,

Jan 30 2017
This book is far better than the original (Who switch off my brain). It's a lot more practical in helping identify, but also 'rewire' thought patterns. It's amazing how neurology verifies so much of what the scriptures show us!
---
Good and insightful
By Jerey,

Jul 14 2016
I bought it being referred by a friend and found it really helpful! It's easy to read, insightful into the science of thought and mental health. Really great application of biblical principles to scientific research.
---
Great Gift
By Alyssa,

Jul 01 2016
Bought this for a friend who is really into self development. She also struggles with negativity and she told me she absolutely loved the book and has been learning so much from it. I think this book is a great gift for friends who struggle with negative self talk (which is everyone). =)
{{review.title}}
By {{review.author.name}},

{{review.reviewCreatedDate | date:'MMM dd yyyy'}}

{{reviewdescription}}
{{review.text}}
---