Switched! (#05 in Tj And The Time Stumblers Series)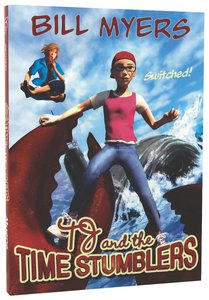 Still on their quest to teach TJ Finkelstein the life lessons she?ll need to be a great world leader, 23rd-century goofballs Tuna and Herby are brewing up even more trouble for the new kid in Malibu. As the boys try to repair their futuristic gadgets, a little glitch in their Thought Broadcaster Pen lands TJ in the body of her nemesis, TV star Hesper Breakahart . . . and vice versa. And the plot thickens when Tuna and Herby decide to put TJ?s new look and superstar power to use. The time stumblers set up a concert for ?Hesper? as a diversion while they sneak aboard a nuclear submarine and borrow a plutonium power pack?one of the items needed to fuel their time pod and get them out of TJ?s life. Meanwhile, Tuna and Herby are hounded by their own nemesis, Bruce Bruiseabone, who?s having a little trouble with forgiveness . . . a lesson that TJ realizes she might also need to learn as she walks a mile in Hesper?s shoes?and body!

- Publisher
You May Also Be Interested In
About "Switched! (#05 in Tj And The Time Stumblers Series)"
Still on their quest to teach TJ Finkelstein the life lessons she?ll need to be a great world leader, 23rd-century goofballs Tuna and Herby are brewing up even more trouble for the new kid in Malibu. As the boys try to repair their futuristic gadgets, a little glitch in their Thought Broadcaster Pen lands TJ in the body of her nemesis, TV star Hesper Breakahart . . . and vice versa. And the plot thickens when Tuna and Herby decide to put TJ?s new look and superstar power to use. The time stumblers set up a concert for ?Hesper? as a diversion while they sneak aboard a nuclear submarine and borrow a plutonium power pack?one of the items needed to fuel their time pod and get them out of TJ?s life. Meanwhile, Tuna and Herby are hounded by their own nemesis, Bruce Bruiseabone, who?s having a little trouble with forgiveness . . . a lesson that TJ realizes she might also need to learn as she walks a mile in Hesper?s shoes?and body!
- Publisher


Meet the Author
Bill Myers
Bill Myers is the author of the humorously imaginative The Incredible Worlds of Wally McDoogle series, which currently numbers 27 episodes and over 2.1 million units sold. He is also the creator and writer of the McGee and Me! video/dvd series. Myers is a director as well as a writer, and his films have won over forty national and international awards. He has written more than 50 books for kids, teens, and adults. Myer's work is enjoyed by millions around the world. He lives with his wife and two daughters in Southern California.- Publisher.
Other Titles In The "Tj And The Time Stumblers" Series View All