Systematic Theology (Vol 2)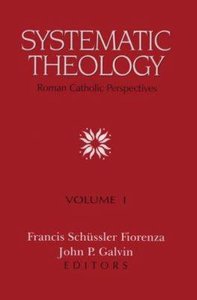 384 Pages

- Publisher "The disciplinary barriers that have divided the confessions are broken through, not only in biblical or historical studies, but in dogmatics itself."--George A. Lindbeck"This is a fine introduction to the major areas in Roman Catholic systematic theology, produced by a first- rate team of scholars. It should be widely used in colleges and theological schools."--Gerald O'Collins, S.J.Dean of the Theology FacultyGregorian University"This fine collection brings together recent Roman Catholic and ecumenical discussion on major theological themes. It is a contemporary and collaborative summa, valuable for students and teacher alike."--Ann E. Carr Professor of TheologyThe Divinity SchoolUniversity of Chicago

- Publisher
You May Also Be Interested In
About "Systematic Theology (Vol 2)"
384 Pages
- Publisher

"The disciplinary barriers that have divided the confessions are broken through, not only in biblical or historical studies, but in dogmatics itself."--George A. Lindbeck"This is a fine introduction to the major areas in Roman Catholic systematic theology, produced by a first- rate team of scholars. It should be widely used in colleges and theological schools."--Gerald O'Collins, S.J.Dean of the Theology FacultyGregorian University"This fine collection brings together recent Roman Catholic and ecumenical discussion on major theological themes. It is a contemporary and collaborative summa, valuable for students and teacher alike."--Ann E. Carr Professor of TheologyThe Divinity SchoolUniversity of Chicago
- Publisher


Meet the Authors
Francis Schussler Fiorenza
Francis Schussler Fiorenza is the Stillman Professor of Roman Catholic Theological Studies at Harvard Divinity School.