The Tabernacle (Rose Guide Series)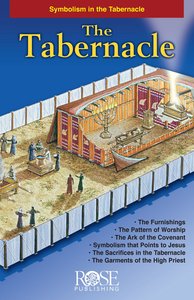 Symbolism in The Tabernacle
The Tabernacle eBook gives a quick overview of the most important features of the Old Testament teaching on the Tabernacle in the Wilderness of Sinai. This eBook features a Tabernacle cutaway illustration that provides an "inside look" at more than 15 important features of the Tabernacle, such as the Ark of the Covenant, the veil, the lampstand, the altars, the High Priest, the sacrifices, and more. This handy reference shows how they relate to our relationship with God today through Christ.


You May Also Be Interested In
About "The Tabernacle (Rose Guide Series)"
Symbolism in The Tabernacle
The Tabernacle eBook gives a quick overview of the most important features of the Old Testament teaching on the Tabernacle in the Wilderness of Sinai. This eBook features a Tabernacle cutaway illustration that provides an "inside look" at more than 15 important features of the Tabernacle, such as the Ark of the Covenant, the veil, the lampstand, the altars, the High Priest, the sacrifices, and more. This handy reference shows how they relate to our relationship with God today through Christ.


- Koorong

Symbolism in The Tabernacle
The Tabernacle eBook gives a quick overview of the most important features of the Old Testament teaching on the Tabernacle in the Wilderness of Sinai. This eBook features a Tabernacle cutaway illustration that provides an "inside look" at more than 15 important features of the Tabernacle, such as the Ark of the Covenant, the veil, the lampstand, the altars, the High Priest, the sacrifices, and more. This handy reference shows how they relate to our relationship with God today through Christ.
- Publisher


Other Titles In The "Rose Guide Series" Series View All