Take a Chance on Me (#01 in Christiansen Family Series)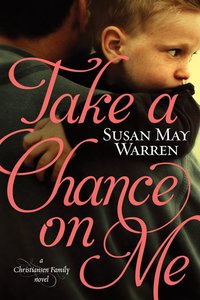 2014 Christy Award winner!
Darek Christiansen is almost a dream bachelor-oldest son in the large Christiansen clan, heir to their historic Evergreen Lake Resort, and doting father. But he's also wounded and angry since the tragic death of his wife, Felicity. No woman in Deep Haven dares come near.

New assistant county attorney Ivy Madison simply doesn't know any better when she bids on Darek at the charity auction. Nor does she know that when she crafted a plea bargain three years ago to keep Jensen Atwood out of jail and in Deep Haven fulfilling community service, she was releasing the man responsible for Felicity's death. All Ivy knows is that the Christiansens feel like the family she's always longed for. And once she gets past Darek's tough exterior, she finds a man she could spend the rest of her life with. Which scares her almost as much as Darek learning of her involvement in his wife's case.

Caught between new love and old grudges, Darek must decide if he can set aside the past for a future with Ivy-a future more and more at risk as an approaching wildfire threatens to wipe out the Christiansen resort and Deep Haven itself.

- Publisher
You May Also Be Interested In
About "Take a Chance on Me (#01 in Christiansen Family Series)"
2014 Christy Award winner!
Darek Christiansen is almost a dream bachelor-oldest son in the large Christiansen clan, heir to their historic Evergreen Lake Resort, and doting father. But he's also wounded and angry since the tragic death of his wife, Felicity. No woman in Deep Haven dares come near.

New assistant county attorney Ivy Madison simply doesn't know any better when she bids on Darek at the charity auction. Nor does she know that when she crafted a plea bargain three years ago to keep Jensen Atwood out of jail and in Deep Haven fulfilling community service, she was releasing the man responsible for Felicity's death. All Ivy knows is that the Christiansens feel like the family she's always longed for. And once she gets past Darek's tough exterior, she finds a man she could spend the rest of her life with. Which scares her almost as much as Darek learning of her involvement in his wife's case.

Caught between new love and old grudges, Darek must decide if he can set aside the past for a future with Ivy-a future more and more at risk as an approaching wildfire threatens to wipe out the Christiansen resort and Deep Haven itself.
- Publisher


Meet the Author
Susan May Warren
Susan Warren recently returned home after serving eight years with her husband and four children as missionaries in Khaborovsk in Far East Russia. Susan holds a BA in mass communications from the University of Minnesota and is a multipublished author of novellas and novels. Susan has an amazing gift for writing complex plots and weaving powerful Christian content throughout her stories. She and her family live in Northern Minnesota.
Customer Reviews For "Take a Chance on Me (#01 in Christiansen Family Series)"
Write Your Own Review
Beautiful Wholeness
By Rochelle, NSW,

Oct 01 2014
I actually read the 2nd book first which is totally an accident on my part. Then a friend told me there was 'Take a Chance on me' and I have just finished it and am going back to book 2 so that I can read book 3 :).
What a gift Susan May Warren has with words and putting language around real situations. Grief can be such a personal thing but also very similar for many. The Stages of Grief and the way we process those and allow God into our pain is where the healing begins.
I love that Darek, Ivy, Claire and Jensen are able to work through the issues they each have and let God work forgiveness, friendship and support for each other in a beautiful and solid way.

Susan also well portrays the emotion of 'spite' "if I can't have it neither can they". It's gently and heartfully worded and the result is healing and release for Nan.

I'm looking forward to reading "It had to be you" and getting to know the Christiansen Family more.
You'll love it.

---
Johanna
By Heartwarming Encouraging!!,

Jun 04 2014
There is something about Susan's writing that makes you feel whole. I felt involved and integrated into Deep Haven and all their problems. The characters and all the situations were so well rounded!! Something will probably stir my memory some time later, making me believe that I have actually physically met these characters, and believe me, this happens often.
Darek. Handsomescary. Lovingintolerable. Grievingwounded. Forgiveness. Enter Ivy Madison. Beautifulvulnerable. Caringadaptable. Scarredjustice. LovingTiger (Theo). There couldn't be any two people better suited!! They sparked right from the beginning, when Ivy, much to the town's amazement, bought Darek at the bachelor's auction. And the kisses, well couldn't go wrong there ;)
What I loved the most about this novel, was that there were 4 main characters: Darek, Ivy, Jensen and Claire, where I got to understand the situation as a whole like some foreign bystander, hurting when they hurt; laughed when they laughed; forgave when they forgave. I grew to love each one of them which is completely contrary to my initial thoughts and judgements. And it happened so subtly as well!! Then come all of the supporting characters, who all feel like family.
Forgiveness. That is the underlying message of the story. And the symbolism gave it so much more meaning!! The book definitely won't disappoint!!
---
Great story
By Hannah,

May 15 2014
I really enjoyed reading this book. It was hard not to fall in love with the whole Christiansen family from the first moment you meet them. They're such a fun, supportive family who really love each other. The romance is beautiful and doesn't come easy. Like all Susan May Warren's books, this was brilliantly written with well-developed characters and a very real dose of reality, despite being fiction. She also manages to weave some very important truths about God and the importance of family into the story, and does it so well that it doesn't feel at all contrived. A beautiful story of grace, forgiveness and second chances. Can't wait to read the rest of the series!
{{review.title}}
By {{review.author.name}},

{{review.reviewCreatedDate | date:'MMM dd yyyy'}}

{{reviewdescription}}
{{review.text}}
---
Other Titles In The "Christiansen Family" Series View All