Taming the Wind (Unabridged, 8 CDS) (#03 in Land Of The Lone Star Audio Series)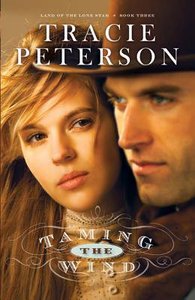 :Though grateful for the blessing of her daughter, Carissa Lowe has accepted that widowhood is her lot in life. Bound by fear and mistrust, she feels incapable of opening her heart again. Tyler Atherton has never forgotten Carissa. When he discovers she?s living with her sister on a nearby ranch, his life becomes intertwined with the lovely widow?s. And Carissa?s daughter, Gloria, seems determined to wrap herself around his little finger. But while Tyler longs to provide a home and future for Carissa, he is haunted by an obligation he feels unable to fulfill. Challenged by mounting hardships, can Carissa and Tyler preserve their fledgling love in a land as unforgiving and vibrant as the people who call it home?

- Publisher
You May Also Be Interested In
About "Taming the Wind (Unabridged, 8 CDS) (#03 in Land Of The Lone Star Audio Series)"
:Though grateful for the blessing of her daughter, Carissa Lowe has accepted that widowhood is her lot in life. Bound by fear and mistrust, she feels incapable of opening her heart again. Tyler Atherton has never forgotten Carissa. When he discovers she?s living with her sister on a nearby ranch, his life becomes intertwined with the lovely widow?s. And Carissa?s daughter, Gloria, seems determined to wrap herself around his little finger. But while Tyler longs to provide a home and future for Carissa, he is haunted by an obligation he feels unable to fulfill. Challenged by mounting hardships, can Carissa and Tyler preserve their fledgling love in a land as unforgiving and vibrant as the people who call it home?
- Publisher


Meet the Authors
Tracie Peterson
Tracie Peterson is a full-time author who has written or co-written over 60 novels in both historical and contemporary genres which regularly appear on the bestseller lists, including the WESTWARD CHRONICLES, the YUKON QUEST and the SHANNON SAGA series. Tracie also teaches writing workshops at a variety of conferences on subjects including inspirational romance and historical research. Tracie and her family live in Montana. - Publisher.
Other Titles In The "Land Of The Lone Star Audio Series" Series View All