Teach From the Heart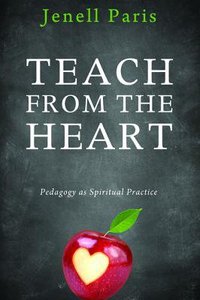 How can a teacher remain whole and happy, able to teach well for an entire semester, an entire year, and an entire career? Teach from the Heart is about finding, rediscovering, or holding on to the heart of the teaching life, which is, quite literally, the teacher's heart. It is an encouragement to take up teaching as more than a service to provide, a profession to master, or a job to perform. It is an invitation to artisanry, teaching as a craft that we master by working with our hands over long periods of time, producing results that bear the mark of their maker. Whether you're just beginning, or in it for the long haul, sit down with Teach from the Heart and deepen your heart for the teaching life. We need not bring to class the wisdom and knowledge we gained elsewhere; we can take up teaching as a spiritual practice, with the classroom as a sacred space for our own formation as persons. With nearly forty years' experience as both student and teacher, Jenell Paris's perspective is hard-won, but still lighthearted and enthusiastic. Teachers from any context will benefit: stories and examples include preschool, K-12, community education, and college teaching. ""Dag Hammarskjold wrote that 'in our era, the road to holiness necessarily passes through the world of action.' Holiness--whatever little we might know about it--is grounded in grace and spiritual practice. It pitches its tent because it wishes to, and because we call it to dwell with us.But how, in the distracted secular world, can we give voice to our longing?We are busy.We have families to raise, a home to make. If we are teachers, we have to get to school by8:30.Jenell Paris makes these 'distractions' the point of practice. To be human, present, and real. Creative, subversive, and--with luck--joyful.Her book has many practical pointers, but its great gift is promoting the conversation, shifting the kaleidoscope of received information, so that the teacher can 'open a space'--each in his or her own way--'to change and growth.'"" --Mary Rose O'Reilley, Author, The Peaceable Classroom; Radical Presence: Teaching as Contemplative Practice;andThe Garden at Night: Burnout and Breakdown in the Teaching Life Jenell Paris is Professor of Anthropology at Messiah College in Grantham, Pennsylvania."

- Publisher
You May Also Be Interested In
About "Teach From the Heart"
How can a teacher remain whole and happy, able to teach well for an entire semester, an entire year, and an entire career? Teach from the Heart is about finding, rediscovering, or holding on to the heart of the teaching life, which is, quite literally, the teacher's heart. It is an encouragement to take up teaching as more than a service to provide, a profession to master, or a job to perform. It is an invitation to artisanry, teaching as a craft that we master by working with our hands over long periods of time, producing results that bear the mark of their maker. Whether you're just beginning, or in it for the long haul, sit down with Teach from the Heart and deepen your heart for the teaching life. We need not bring to class the wisdom and knowledge we gained elsewhere; we can take up teaching as a spiritual practice, with the classroom as a sacred space for our own formation as persons. With nearly forty years' experience as both student and teacher, Jenell Paris's perspective is hard-won, but still lighthearted and enthusiastic. Teachers from any context will benefit: stories and examples include preschool, K-12, community education, and college teaching. ""Dag Hammarskjold wrote that 'in our era, the road to holiness necessarily passes through the world of action.' Holiness--whatever little we might know about it--is grounded in grace and spiritual practice. It pitches its tent because it wishes to, and because we call it to dwell with us.But how, in the distracted secular world, can we give voice to our longing?We are busy.We have families to raise, a home to make. If we are teachers, we have to get to school by8:30.Jenell Paris makes these 'distractions' the point of practice. To be human, present, and real. Creative, subversive, and--with luck--joyful.Her book has many practical pointers, but its great gift is promoting the conversation, shifting the kaleidoscope of received information, so that the teacher can 'open a space'--each in his or her own way--'to change and growth.'"" --Mary Rose O'Reilley, Author, The Peaceable Classroom; Radical Presence: Teaching as Contemplative Practice;andThe Garden at Night: Burnout and Breakdown in the Teaching Life Jenell Paris is Professor of Anthropology at Messiah College in Grantham, Pennsylvania."
- Publisher


Meet the Author
Jenell Williams Paris
Jenell Williams Paris (Ph.D., American University) is professor of anthropology and sociology at Messiah College in Pennsylvania. She regularly teaches introductory anthropology courses. She was formerly Professor of Anthropology at Bethel College in St. Paul, Minnesota and has co-authored Introducing Cultural Anthropology: A Christian Perspective with Brian M. Howell.
She has written for such publications as Christianity Today, Books & Culture and Christian Scholar's Review. Her books include Birth Control for Christians; Urban Disciples and most recently The End of Sexual Identity:Why Sex Is Too Important to Define Who We Are.