Teaching Kids Authentic Worship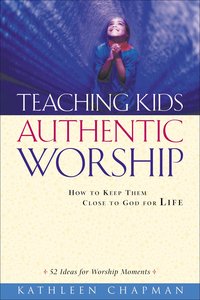 Many children, as adoring fans, can rattle off all the stats and facts and details about their favorite singer or sports star. Wouldn't it be great if they knew that much about God and were as excited about him?
In Teaching Kids Authentic Worship, Kathleen Chapman gives an eye-opening lesson on how worship can spark that kind of enthusiasm. She begins with what it means to truly worship-to focus on God alone. At its core, she says, worship is our recognition of the greatness of God. It is a kind of glue that will effectively lead children into a greater, more permanent love relationship with Jesus.
With a contagious enthusiasm of her own, Chapman moves from the "what" of worship to the "how." She includes fifty-two worship moments that help children-and adults-focus exclusively on God and learn about him. These creative moments take the form of singing, hand movements, dance, crafts, games, writing, drama, and more.
Teaching Kids Authentic Worship is a necessary resource for every Sunday school teacher, children's church leader, and parent who wants to guide children in making God their greatest hero and lifelong friend.

- Publisher
You May Also Be Interested In
About "Teaching Kids Authentic Worship"
Many children, as adoring fans, can rattle off all the stats and facts and details about their favorite singer or sports star. Wouldn't it be great if they knew that much about God and were as excited about him?
In Teaching Kids Authentic Worship, Kathleen Chapman gives an eye-opening lesson on how worship can spark that kind of enthusiasm. She begins with what it means to truly worship-to focus on God alone. At its core, she says, worship is our recognition of the greatness of God. It is a kind of glue that will effectively lead children into a greater, more permanent love relationship with Jesus.
With a contagious enthusiasm of her own, Chapman moves from the "what" of worship to the "how." She includes fifty-two worship moments that help children-and adults-focus exclusively on God and learn about him. These creative moments take the form of singing, hand movements, dance, crafts, games, writing, drama, and more.
Teaching Kids Authentic Worship is a necessary resource for every Sunday school teacher, children's church leader, and parent who wants to guide children in making God their greatest hero and lifelong friend.
- Publisher


Meet the Author
Kathleen Chapman
Kathleen Chapman has worked with children's ministries for thirty years. She lives in San Clemente, California, teaching musical theater in churches and schools and speaking at camps, retreats, and MOPS gatherings. Chapman has produced and directed children's musical recordings for Focus on the Family and published several books on children's drama. She has also appeared on the Today show with Maria Shriver.