Teen Workbook (Friendship 911 Series)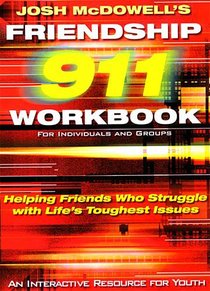 156 Pages

- Publisher Friendship 911" equips students with tools to help their friends and prepares them to deal with each crisis should they ever face those same problems personally. "Christian youth-to-youth friendships are vitally important in an age when young people are facing the tough issues of life. We must equip our kids to know how to truly care for each other and become that source of support and healing".--Josh McDowell.

- Publisher This is an eight-session youth group meeting experience designed to equip young people to respond to the toughest crises their peers may face.Addressing each issue covered in the Friendship 911 Collection, students learn how to help their friends with "Tender Loving Care" and in the process become a powerful witness of God's love and care.Students also complete daily activities between group sessions, 35 activities in all.An optional video supplement augments each youth group session with powerful visuals and dramatic illustrations of youth struggling with each of the eight crises.Shaded sections in the Friendship 911 Leader's Guide indicate when and how to use this optional video supplement.

- Publisher
You May Also Be Interested In
About "Teen Workbook (Friendship 911 Series)"
156 Pages
- Publisher

Friendship 911" equips students with tools to help their friends and prepares them to deal with each crisis should they ever face those same problems personally. "Christian youth-to-youth friendships are vitally important in an age when young people are facing the tough issues of life. We must equip our kids to know how to truly care for each other and become that source of support and healing".--Josh McDowell.
- Publisher

This is an eight-session youth group meeting experience designed to equip young people to respond to the toughest crises their peers may face.Addressing each issue covered in the Friendship 911 Collection, students learn how to help their friends with "Tender Loving Care" and in the process become a powerful witness of God's love and care.Students also complete daily activities between group sessions, 35 activities in all.An optional video supplement augments each youth group session with powerful visuals and dramatic illustrations of youth struggling with each of the eight crises.Shaded sections in the Friendship 911 Leader's Guide indicate when and how to use this optional video supplement.
- Publisher


Meet the Author
Josh Mcdowell
Josh McDowell is an internationally known speaker, author, and champion of the 'Beyond Belief' Campaign. He is a travelling representative of Campus Crusade for Christ speaking to more than ten million people in at least 84 countries, including 700 university and college campuses.
Josh has authored or co-authored more than 90 books, including the classic A Ready Defense, Evidence that Demands a Verdict and Answers to Tough Questions
Other Titles In The "Friendship 911" Series View All
$19.99




Order now to secure your copy when our stock arrives. 0 Available. Expected to ship in 5 to 6 weeks from Australia.

Formats

$12.99




Order now to secure your copy when our stock arrives. eBook is Available. 0 Available. Expected to ship in 7 to 8 weeks from Australia.

Formats

$12.99




Order now to secure your copy when our stock arrives. eBook is Available. 0 Available. Expected to ship in 7 to 8 weeks from Australia.

Formats