Teenage Girls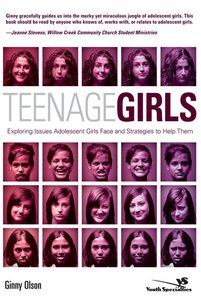 Eating Disorders, depression, gender confusion---these sound like problems for other people, but the reality is your students are dealing with them every day. The issues that girls face are growing in complexity and number. Written with the end user in mind, this resource will be one that won't leave a youth worker's hands.
You May Also Be Interested In
About "Teenage Girls"
Eating Disorders, depression, gender confusion---these sound like problems for other people, but the reality is your students are dealing with them every day. The issues that girls face are growing in complexity and number. Written with the end user in mind, this resource will be one that won't leave a youth worker's hands.
- Koorong

Girls are more than just sugar and spice. We've all figured that out. What we haven't figured out completely is how they're wired, why they do the things they do, how the world around them affects their choices and opinions, and what that means for youth ministry-until now.In Teenage Girls, you'll find advice from counselors and veteran youth workers, along with helpful suggestions on how to minister to teenage girls. Each chapter includes discussion questions to help you and other youth workers process the issues your own students face and learn how you can help them and mentor them through this tumultuous time.In addition to the traditional issues people commonly associate with girls, such as eating disorders, self-image issues, and depression, author Ginny Olson will guide you through some of the new issues on the rise in girls' lives. You'll understand more about issues related to:Family . Addiction . Emotional well-being . Mentalhealth . Physical welfare . Sexuality . Spirituality . Relationships
- Publisher


Meet the Author
Ginny Olson
Ginny is currently the codirector of the Center for Youth Ministry Studies and assistant professor of youth ministry at North Park University and Theological Seminary in Chicago, Illinois. Before teaching undergraduate and seminary students, she was involved in hands-on youth ministry for more than twenty years at various churches and camps, including serving on staff in the junior high ministry at Willow Creek Community Church. She is coauthor of the Youth Specialties resource, Youth Ministry Management Tools, as well as an editor and contributing author for Breaking the Gender Barrier in YouA