Teenagers Are Depressed and Contemplating Suicide? (Wdidw Series)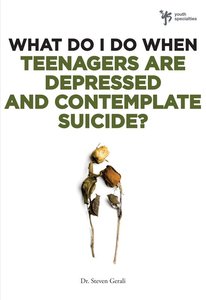 Many youth workers have little knowledge or are misinformed about the big issues (Divorce, homosexuality, death, suicide, physical abuse, ADHD etc...) that affect ministries to teenagers. These issues are becoming more a part of the fabric of youth ministry with an ever-growing "at-risk" adolescent population. There are many books written on each of the following issues but they are designed to assist counselors and are fairly comprehensive. This series is designed to give specific critical information on the issue and to "coach" the worker through his/her role as a youth worker not a mental health professional.

- Publisher 'In this new series of books designed for anyone connected to teenagers, Dr. Steven Gerali addresses six daunting and difficult situations that, when they do happen, often leave youth workers and parents feeling unprepared. With a background in adolescent counseling, Dr. Gerali provides valuable resources to help youth workers and parents through some of the most challenging situations they may face. Each book defines the issue, explores how different theological perspectives can impact the situation, offers helpful, practical tips, along with credible resources to help the reader go deeper into the issues they're dealing with. This direct and hard-hitting series will include: * What Do I Do When...Death Comes---How to help teens through the questions and pain that arise when another student dies * What Do I Do When...Bullying and Violence Hits Home---Understanding and addressing the issues of bullying in and out of the youth group * What Do I Do When...We Encounter Sexual and Physical Abuse---How to handle issues of sexual and physical abuse, including practical intervention strategies and legal parameters * What Do I Do When...Families are Shattered by Dysfunction and Divorce---Equipping youth workers to help students pick up the broken pieces and find health and healing in the midst of family breakdown * What Do I Do When...Secret Eating Disorders Eat Away at Kids---Understanding and recognizing eating disorders in order to initiate helping strategies for teens dealing with this issue * What Do I Do When...Homosexuality Comes Out of the Closet and Into the Youth Ministry---Equipping youth workers to help students navigate the dangerous waters created by this issue, and educate other leaders on how to engage with homosexuality in the church'

- Publisher
You May Also Be Interested In
About "Teenagers Are Depressed and Contemplating Suicide? (Wdidw Series)"
Many youth workers have little knowledge or are misinformed about the big issues (Divorce, homosexuality, death, suicide, physical abuse, ADHD etc...) that affect ministries to teenagers. These issues are becoming more a part of the fabric of youth ministry with an ever-growing "at-risk" adolescent population. There are many books written on each of the following issues but they are designed to assist counselors and are fairly comprehensive. This series is designed to give specific critical information on the issue and to "coach" the worker through his/her role as a youth worker not a mental health professional.
- Publisher

'In this new series of books designed for anyone connected to teenagers, Dr. Steven Gerali addresses six daunting and difficult situations that, when they do happen, often leave youth workers and parents feeling unprepared. With a background in adolescent counseling, Dr. Gerali provides valuable resources to help youth workers and parents through some of the most challenging situations they may face. Each book defines the issue, explores how different theological perspectives can impact the situation, offers helpful, practical tips, along with credible resources to help the reader go deeper into the issues they're dealing with. This direct and hard-hitting series will include: * What Do I Do When...Death Comes---How to help teens through the questions and pain that arise when another student dies * What Do I Do When...Bullying and Violence Hits Home---Understanding and addressing the issues of bullying in and out of the youth group * What Do I Do When...We Encounter Sexual and Physical Abuse---How to handle issues of sexual and physical abuse, including practical intervention strategies and legal parameters * What Do I Do When...Families are Shattered by Dysfunction and Divorce---Equipping youth workers to help students pick up the broken pieces and find health and healing in the midst of family breakdown * What Do I Do When...Secret Eating Disorders Eat Away at Kids---Understanding and recognizing eating disorders in order to initiate helping strategies for teens dealing with this issue * What Do I Do When...Homosexuality Comes Out of the Closet and Into the Youth Ministry---Equipping youth workers to help students navigate the dangerous waters created by this issue, and educate other leaders on how to engage with homosexuality in the church'
- Publisher


Meet the Author
Steve Gerali
Dr. Steven Gerali is a speaker, professor, and counselor who is recognized around the world as an expert in the field of adolescence and youth ministry. He's the author of Teenage Guys and two books for students. Before becoming a professor of youth ministry Steve served for more than 25 years as pastor of student ministries in churches in Arizona and Illinois. The father of two grown daughters, Steve currently lives in southern California with his wife, Jan.
Other Titles In The "Wdidw" Series View All