Teenagers Question Their Sexuality? (Wdidw Series)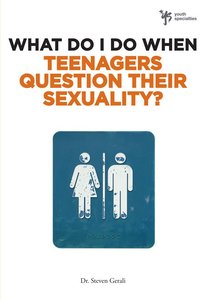 Many youth workers have little knowledge or are misinformed about the big issues (Divorce, homosexuality, death, suicide, physical abuse, ADHD etc...) that affect ministries to teenagers. These issues are becoming more a part of the fabric of youth ministry with an ever-growing 'at-risk' adolescent population. There are many books written on each of the following issues but they are designed to assist counselors and are fairly comprehensive. This series is designed to give specific critical inform
You May Also Be Interested In
About "Teenagers Question Their Sexuality? (Wdidw Series)"
Many youth workers have little knowledge or are misinformed about the big issues (Divorce, homosexuality, death, suicide, physical abuse, ADHD etc...) that affect ministries to teenagers. These issues are becoming more a part of the fabric of youth ministry with an ever-growing 'at-risk' adolescent population. There are many books written on each of the following issues but they are designed to assist counselors and are fairly comprehensive. This series is designed to give specific critical inform
- Koorong


"When faced with a crisis, the first words most people think are, "What do I do…?" In this important series of books designed for anyone connected to teenagers, Dr. Steven Gerali addresses six daunting and difficult situations that, when they do happen, often leave youth workers and parents feeling unprepared. With a background in adolescent counseling, Dr. Gerali provides valuable resources to help youth workers and parents through some of the most challenging situations they may face. What Do I Do When Teenagers Question Their Sexuality helps youth workers and parents navigate the challenging waters created by this issue, and offers tools to deal with the shifting views of sexuality in culture and in their teens' lives. What Do I Do When Teenagers Struggle with Eating Disorders offers insights to help youth workers and parents understand and recognize eating disorders in order to initiate helping strategies for teens dealing with this issue."
- Publisher
Meet the Author
Steve Gerali
Dr. Steven Gerali is a speaker, professor, and counselor who is recognized around the world as an expert in the field of adolescence and youth ministry. He's the author of Teenage Guys and two books for students. Before becoming a professor of youth ministry Steve served for more than 25 years as pastor of student ministries in churches in Arizona and Illinois. The father of two grown daughters, Steve currently lives in southern California with his wife, Jan.
Other Titles In The "Wdidw" Series View All