Telling the Gospel Through Story: Evangelism That Keeps Hearers Wanting More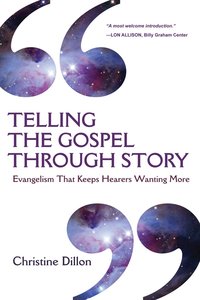 The 2013 Outreach Magazine Resource of the Year in Evangelism!Everybody loves a good story.In an age when prepackaged gospel formulations leave people cold, well-told Bible stories can be used powerfully by God to touch people's hearts and draw them to himself.After ministry in both Western and non-Western contexts, church planter Christine Dillon has discovered that Bible storying is far more effective than most other forms of apologetics or evangelistic presentations. In fact, non-Christians actually enjoyed storying and kept coming back for more. Storying provides solid biblical foundations so listeners can understand, apply and respond to the gospel, and then go on to fruitful maturity in God's service.This book includes practical guidance on how to shape a good story, how to do evangelism through storying and how to lead Bible discussions. With particular insights for trainers and those working in crosscultural contexts, this guide provides you with concrete steps for sharing the Story that everyone needs to hear.

- Publisher
You May Also Be Interested In
About "Telling the Gospel Through Story: Evangelism That Keeps Hearers Wanting More"
The 2013 Outreach Magazine Resource of the Year in Evangelism!Everybody loves a good story.In an age when prepackaged gospel formulations leave people cold, well-told Bible stories can be used powerfully by God to touch people's hearts and draw them to himself.After ministry in both Western and non-Western contexts, church planter Christine Dillon has discovered that Bible storying is far more effective than most other forms of apologetics or evangelistic presentations. In fact, non-Christians actually enjoyed storying and kept coming back for more. Storying provides solid biblical foundations so listeners can understand, apply and respond to the gospel, and then go on to fruitful maturity in God's service.This book includes practical guidance on how to shape a good story, how to do evangelism through storying and how to lead Bible discussions. With particular insights for trainers and those working in crosscultural contexts, this guide provides you with concrete steps for sharing the Story that everyone needs to hear.
- Publisher


Meet the Author
Christine Dillon
Christine Dillon is a Australian missionary with OMF in Taiwan. She uses Bible stories to share the gospel, disciple and train leaders. She trains people in story telling in both Western and non-Western contexts.
Table Of Contents
The 2013 outreach Magazine Resource Of The Year In Evangelism!everybody Loves A Good Story.in An Age When Prepackaged Gospel Formulations Leave People Cold, Well-told Bible Stories Can Be Used Powerfully By God To Touch People's Hearts And Draw Them To Himself.after Ministry In Both Western And Non-western Contexts, Church Planter Christine Dillon Has Discovered That Bible Storying Is Far More Effective Than Most Other Forms Of Apologetics Or Evangelistic Presentations. In Fact, Non-christians Actually Enjoyed Storying And Kept Coming Back For More. Storying Provides Solid Biblical Foundations So Listeners Can Understand, Apply And Respond To The Gospel, And Then Go On To Fruitful Maturity In God's Service.this Book Includes Practical Guidance On How To Shape A Good Story, How To Do Evangelism Through Storying And How To Lead Bible Discussions. With Particular Insights For Trainers And Those Working In Crosscultural Contexts, This Guide Provides You With Concrete Steps For Sharing The Story That Everyone Needs To Hear.
part One: Foundations

1. Why Storying?

2. Learning From Biblical Models

part Two: Preparing A Basic Story Set

3. Choosing Suitable Stories

4. Preparing Stories From The Biblical Text

part Three: Sow And Tell: Getting Out And Using Storying

5. Getting Started

6. Leading Discussion: The Why And How

7. Discussion Dynamics: More Hints

part Four: Pass It On: Training Others

8. Basics

9. Motivating Trainees

part Five: Adapting For Specific Contexts

10. Evangelistic Storying With Different Audiences

11. Storying For Christian Teaching

Epilogue

Appendix A: Extra Discussion Questions

Appendix B: Different Storying Methods

Appendix C: Training Checklist

Appendix D: Sample Stories

Acknowledgments

Notes
Customer Reviews For "Telling the Gospel Through Story: Evangelism That Keeps Hearers Wanting More"
Write Your Own Review
a welcome and necessary addition to preaching, teaching, evangelism
By Sam C,

May 16 2018
For the last few decades, we've been stuck in a one-size-fits-all model of preaching and evangelism-namely, the logical, linear presentation of propositional ideas. This method is great for abstract-ideational thinkers. But, estimates are that four out of five Westerners, and nine out of ten non-Westerners, prefer concrete-relational thinking. In other words, they learn from hearing stories, rather than from abstract ideas. Dillon's book is the helpful addition we've needed. Finally, we're freed up to use stories in not just preaching and evangelism, but also in the way we lead Bible studies and teach in Bible colleges and seminaries. Get the book, check out the website storyingthescriptures.com, and give it a go. You'll be blown away by how simple it is. And soon you'll be telling stories-the "mother tongue" of the majority of our audiences. 
---
Everyone who wants to share the gospel should read this!
By Sally Poyzer ,

Mar 20 2018
This book is truly fantastic! I think every pastor and leader should read this. And every Christian too - because the task of sharing the gospel is everyone's. This book challenged and inspired me to re-think how I share the gospel in a wide range of contexts. It is really easy to read and the insights are excellent. I cannot recommend it highly enough and have already excitedly recommended it to many people  
---
An important part of the evangelism toolkit
By Kris,

Sep 20 2017
Christine's book is a fantastic resource, and a great encouragement to make use of storytelling in our Gospel explanations. As fewer people in our society know the stories of the Bible, this book is becoming even more relevant today. Highly recommended.
---
Excellent follow up
By Viviedawn,

Aug 24 2017
I read this book after attending my first Bible Story Telling workshop with Wycliffe Queensland. The workshop hooked me on storying the Bible and this book added depth and insight to the methodology and rationale. Christine's examples of the ways in which story telling can be used for evangelism in particular are helpful and encouraging. I recommend this book as excellent follow up material for all who catch the vision.
---
An excellent tool
By AJR,

Jul 02 2017
I was on the lookout for a way to better engage myself, young people and co-workers in bible study and see it impact on our lives. The methods laid out in 'Telling The Gospel Through Story' have helped achieve just that. One young person said 'I have read the story before but never have I understood it quite as well as this'. This person was then able to share the story with a friend the next day. In other settings the 'rules' of the story telling time have enabled all, including those with a quieter demeanor, to safely engage in an enjoyable and relaxed study time. I look forward to using the principles of storytelling to explore the Bible further.

Husband, Father  Young People's Bible Study leader. Sydney.
{{review.title}}
By {{review.author.name}},

{{review.reviewCreatedDate | date:'MMM dd yyyy'}}

{{reviewdescription}}
{{review.text}}
---