Thank God It's Monday (3rd Edition)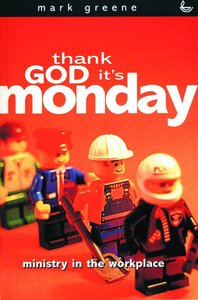 Mark Greene is the director of the London Institute for Contemporary Christianity. He previously worked in London and New York for the leading advertising agency Olgivy and Mather before becoming lecturer and then vice-principal at the London Bible College. He frequently writes and speaks on issues relating to ministry in the workplace.

- Publisher Fun, fast, and full of stories, this is an excellent book for anyone who feels that their ministry - evangelistic or otherwise - starts the moment they leave work and stops the moment they re-enter its doors. Mark Greene provides a theology of work that is sadly lacking in many churches, pointing out that most people work with non-Christians and yet never see them as potential Christians. He also challenges the pressure put on those who are already over-worked to spend vast amounts of time outside work hours evangelizing when their real witness has to be with those with whom they spend so much time. Using anecdotes, Scriptural references, questions and problems to mull over, this book is for anyone who wants to bring Jesus to their warmest contacts - the people with whom they work.

- Publisher A highly practical book looking at making the most of the time we spend at work. Examining our jobs, colleagues and bosses from God's point of view. Expanding the 'spiritual' part of life from the weekend to the workplace and understanding that God is at work there through us,in us, and in those we work with.

- Publisher
You May Also Be Interested In
About "Thank God It's Monday (3rd Edition)"
Mark Greene is the director of the London Institute for Contemporary Christianity. He previously worked in London and New York for the leading advertising agency Olgivy and Mather before becoming lecturer and then vice-principal at the London Bible College. He frequently writes and speaks on issues relating to ministry in the workplace.
- Publisher

Fun, fast, and full of stories, this is an excellent book for anyone who feels that their ministry - evangelistic or otherwise - starts the moment they leave work and stops the moment they re-enter its doors. Mark Greene provides a theology of work that is sadly lacking in many churches, pointing out that most people work with non-Christians and yet never see them as potential Christians. He also challenges the pressure put on those who are already over-worked to spend vast amounts of time outside work hours evangelizing when their real witness has to be with those with whom they spend so much time. Using anecdotes, Scriptural references, questions and problems to mull over, this book is for anyone who wants to bring Jesus to their warmest contacts - the people with whom they work.
- Publisher

A highly practical book looking at making the most of the time we spend at work. Examining our jobs, colleagues and bosses from God's point of view. Expanding the 'spiritual' part of life from the weekend to the workplace and understanding that God is at work there through us,in us, and in those we work with.
- Publisher


Meet the Author
Mark Greene
Mark Greene is London Institute of Contemporary Christianity's Executive Director and has been in post since 1999. Before that he served as Vice-Principal and Lecturer in Communications at the London School of Theology. Mark has produced a number of workplace resources, notably Thank God it's Monday and the widely distributed Supporting Christians at Work - Without Going Insane.
In addition, he has developed Christian Life and Work, a 6-part small group DVD resource, and edited Pocket Prayers for Work. He is also the writer and presenter of the Imagine DVD and, with Tracy Cotterell, the editor of Let my People Grow - a collection of essays on whole-life disciplemaking. Most recently he edited and contributed sections to Trevor Cooling's LICC resource Supporting Christians in Education. He is also the regular culture columnist for Christianity magazine.