That Certain Summer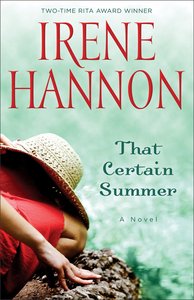 Karen and Val are family--yet they're anything but close. Karen has carried the burden of responsibility for her aging mother ever since her gorgeous sister left town years ago to pursue a career in theater. But Val had darker reasons for leaving town--as well as a secret to keep--and coming home has never been an option ... until their mother suffers a stroke.

Reunited in their hometown, Karen and Val must grapple with their past mistakes, their relationship with each other, and their issues with a mother who is far from ideal. When a physical therapist raising his daughter alone and a handsome but hurting musician enter the picture, the summer takes on a whole new dimension. As their lives intersect and entwine, can each learn how to forgive, how to let go, and how to move on? And strengthened by the healing power of faith, might they also find the courage to love?

With her trademark compelling characters and heartwarming hope, fan favorite Irene Hannon offers her readers an inspiring true-to-life tale of complex family relationships, transgressions revealed and forgiven, and the complicated process of finding love.

- Publisher
You May Also Be Interested In
About "That Certain Summer"
Karen and Val are family--yet they're anything but close. Karen has carried the burden of responsibility for her aging mother ever since her gorgeous sister left town years ago to pursue a career in theater. But Val had darker reasons for leaving town--as well as a secret to keep--and coming home has never been an option ... until their mother suffers a stroke.

Reunited in their hometown, Karen and Val must grapple with their past mistakes, their relationship with each other, and their issues with a mother who is far from ideal. When a physical therapist raising his daughter alone and a handsome but hurting musician enter the picture, the summer takes on a whole new dimension. As their lives intersect and entwine, can each learn how to forgive, how to let go, and how to move on? And strengthened by the healing power of faith, might they also find the courage to love?

With her trademark compelling characters and heartwarming hope, fan favorite Irene Hannon offers her readers an inspiring true-to-life tale of complex family relationships, transgressions revealed and forgiven, and the complicated process of finding love.
- Publisher


Meet the Author
Irene Hannon
Irene Hannon is the bestselling and award-winning author of more than fifty novels, including Buried Secrets and Thin Ice, as well as the Heroes of Quantico, Guardians of Justice, and Private Justice series. In addition to many other honors, she is a seven-time finalist for and three-time winner of the prestigious RITA Award from Romance Writers of America. She is also a member of RWA's elite Hall of Fame. Learn more at www.irenehannon.
Customer Reviews For "That Certain Summer"
Write Your Own Review
Summer Reading
By Jessica R. Wakefield,

Oct 01 2013
I love Irene Hannon's suspense books and when I saw this, I thought I'd better try it. I know she has written in the straight romance genre before, I just haven't read any. What struck me about this book was the characterization. The three women (Karen, Val and their mother) are trying to sort their lives out. Karen and Val are living under the constant scrutiny of their mother. Karen takes it to heart and tries even harder to please her, while Val shrugs it off and pretends it doesn't bother her. Neither strategy really works and it only makes their mother more difficult. The relationship between the three women is very realistic. A mother's harsh criticism stays with the girls well into their adulthood and still holds sway over them. However Val and Karen are on a journey to free themselves from their mother's criticism, move on from the heartbreak of the past and look forward to a brighter, hopeful future.

As sisters estranged for many years, Val and Karen reconnect when Val returns to help their mother after her stroke. I loved the girl's weekly coffee dates while their mum slept! I liked the way they forged through some difficult stuff to see the truth behind their Mum's manipulations and this gave them a stronger bond. We even got to see the human side of their mother and slowly watch as she stopped her endless criticism and opted for silence - while not ideal, it was much better for the girls.

There's a lot going on emotionally for Karen and Val and I lapped up the difficult journey God has them on. What I struggled with was the love interests for them. Val's man seemed a little too perfect and Karen's guy didn't seem that appealing personality wise. They just didn't ring true for me and because of that I couldn't connect with them and thus the romances didn't have the effect I would have liked.

Overall though, this was a solid read from a good author
---
Recommended Reading
By Staff,

Jul 16 2013
Totally enjoy reading many of Irene Hannon's books and although this one is without the touch of suspense that she's know for I can highly recommend spending an enjoyable weekend with this book.
It's a beautiful love story even if you don't dig to deep into the depths of it's message.
A story of great love. How being able to understand the hurts that our parents carry can touch our lives. Of forgiveness, of healing, of gaining strength in identity and for one couple being able to show compassion and receive the gift of love and self forgiveness.
This story has stayed with me. I'm sure you'll enjoy it.
{{review.title}}
By {{review.author.name}},

{{review.reviewCreatedDate | date:'MMM dd yyyy'}}

{{reviewdescription}}
{{review.text}}
---