That's My Son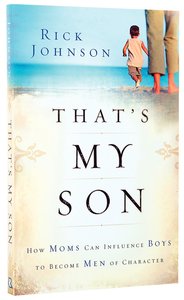 Have you ever been confused by what makes your son tick? Do you sometimes find yourself wondering why your boy acts the way he does? Well, you're not alone. If boys are going to grow into men of integrity, they must learn loyalty, compassion, honour, courage, and perseverance as children. Let's be honest: raising sons to be good men is a tremendous challenge.

Recognizing the incredible value of a mother's influence on her son's life, Rick Johnson offers a practical, common-sense approach to help moms like you prepare for the challenges that will come as your boy grows. In THAT'S MY SON, Johnson combines refreshing honesty with extensive research and humorous insight to tackle topics like communication, sexuality, discipline, and respect.

Maybe you're a little overwhelmed at the idea of raising your son to be a man of character. Or perhaps you're wondering how to talk with your boy so that he will listen. Whatever your situation, you will find wise counsel and encouragement in this helpful and reassuring book.


- Publisher A mother's influence is unique and valuable, but still sometimes moms don't know what makes their boys tick. Here's practical help and support for mothers wanting to raise sons to be godly men.

- Publisher Why are boys so different? Why would a trip to the garbage dump be such a highlight in a boy's life? What do boys need to learn in order to become good men? A mother's influence on her sons is unique and valuable, but still sometimes moms don't understand what makes their boys tick. They want to help their sons grow up to become men of honor and integrity, but that's a tremendous challenge. With refreshing honesty and a man's insight, author Rick Johnson offers the advice, understanding, and support every mom is looking for when it comes to raising godly sons. Using extensive research and humorous personal experiences, he addresses tough issues, such as communication, discipline, sexuality, and respect. Mothers, including single moms as well as grandmothers and teachers, will find wise counsel and reassurance in this practical and helpful book.

- Publisher
You May Also Be Interested In
About "That's My Son"
Have you ever been confused by what makes your son tick? Do you sometimes find yourself wondering why your boy acts the way he does? Well, you're not alone. If boys are going to grow into men of integrity, they must learn loyalty, compassion, honour, courage, and perseverance as children. Let's be honest: raising sons to be good men is a tremendous challenge.

Recognizing the incredible value of a mother's influence on her son's life, Rick Johnson offers a practical, common-sense approach to help moms like you prepare for the challenges that will come as your boy grows. In THAT'S MY SON, Johnson combines refreshing honesty with extensive research and humorous insight to tackle topics like communication, sexuality, discipline, and respect.

Maybe you're a little overwhelmed at the idea of raising your son to be a man of character. Or perhaps you're wondering how to talk with your boy so that he will listen. Whatever your situation, you will find wise counsel and encouragement in this helpful and reassuring book.

- Publisher

A mother's influence is unique and valuable, but still sometimes moms don't know what makes their boys tick. Here's practical help and support for mothers wanting to raise sons to be godly men.
- Publisher

Why are boys so different? Why would a trip to the garbage dump be such a highlight in a boy's life? What do boys need to learn in order to become good men? A mother's influence on her sons is unique and valuable, but still sometimes moms don't understand what makes their boys tick. They want to help their sons grow up to become men of honor and integrity, but that's a tremendous challenge. With refreshing honesty and a man's insight, author Rick Johnson offers the advice, understanding, and support every mom is looking for when it comes to raising godly sons. Using extensive research and humorous personal experiences, he addresses tough issues, such as communication, discipline, sexuality, and respect. Mothers, including single moms as well as grandmothers and teachers, will find wise counsel and reassurance in this practical and helpful book.
- Publisher


Meet the Author
Rick Johnson
rick johnson is the founder of better dads, a fathering skills program designed to equip men to be more engaged in the lives of their children.he is the author of That's my son, better dads, stronger sons and the man whisperer. rick, his wife, suzanne, and their two children live in gresham oregan.