The 100 Best Bible Verses on Heaven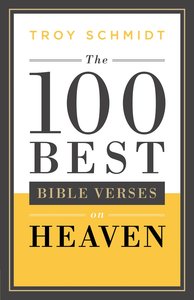 An Easy-to-Use Guide to Help Readers Learn about Heaven

Everyone wants to know what happens after they die. Many authors have tried to describe and explain the mysteries of heaven, but what does the Bible say about it? The 100 Best Bible Verses on Heaven goes straight to the source of all Truth to give insight into the afterlife. The 100 verses that are highlighted include the well-known passages as well as hidden treasures. Each verse is followed by a brief devotional reading that will help you find understanding and comfort from the text, and in the process draw ever nearer to God. The book's length and focus make it perfect as a daily meditation or to read as a family. It also makes an ideal gift for those who love the Bible and seek the hope of God's promises.

- Publisher
You May Also Be Interested In
About "The 100 Best Bible Verses on Heaven"
An Easy-to-Use Guide to Help Readers Learn about Heaven

Everyone wants to know what happens after they die. Many authors have tried to describe and explain the mysteries of heaven, but what does the Bible say about it? The 100 Best Bible Verses on Heaven goes straight to the source of all Truth to give insight into the afterlife. The 100 verses that are highlighted include the well-known passages as well as hidden treasures. Each verse is followed by a brief devotional reading that will help you find understanding and comfort from the text, and in the process draw ever nearer to God. The book's length and focus make it perfect as a daily meditation or to read as a family. It also makes an ideal gift for those who love the Bible and seek the hope of God's promises.
- Publisher


Meet the Author
Troy Schmidt
Troy Schmidt has writing and video production credits ranging from assignments with Disney ("The Mickey Mouse Club") and Nickelodeon to Max Lucado's Hermie franchise. He is currently the lead writer for "The American Bible Challenge" hosted by Jeff Foxworthy on the Game Show Network. Troy and his wife have three sons.