The 21-Day Dad's Challenge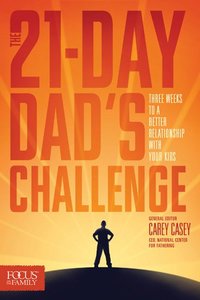 This fall, men all over the U.S. will emerge from movie theaters wanting to be better fathers--having just watched "Courageous, " the new film from the producers of "Fireproof." This book will help them reach that goal. Using well-known names from the worlds of sports, Christianity, and parenting, "The 21-Day Dad's Challenge" will inspire and equip men to succeed in practicing "Championship Fatherhood." Though not an official tie-in to the movie, this joint project by Focus on the Family and the National Center for Fathering will aid dads in applying the film's message. The "challenge" format will appeal to men's competitive instincts. And the simple, straightforward approach, combined with the limited time frame required, will convince them that they really can become measurably better dads in just three weeks.

- Publisher What?s keeping you from a better relationship with your child? It?s not that you don?t want to spend more time together, have more fun, and pass along more God-honoring values. But life gets in the way, and before you know it you?re waving good-bye to a son or daughter and wishing you could try that fathering thing again.

The 21-Day Dad?s Challenge features a simple, practical tip for each day of the next three weeks?along with a quick, easy way to try it out. Not enough to weigh you down; just enough to make a difference.

You?ll be challenged by the best: Tony Dungy, Josh McDowell, Randy Alcorn, Carey Casey, Jim Daly, and more.

No matter what your child?s age, make each day count with in-person loving, coaching, and modeling?starting with the next 21!

- Publisher
You May Also Be Interested In
About "The 21-Day Dad's Challenge"
This fall, men all over the U.S. will emerge from movie theaters wanting to be better fathers--having just watched "Courageous, " the new film from the producers of "Fireproof." This book will help them reach that goal. Using well-known names from the worlds of sports, Christianity, and parenting, "The 21-Day Dad's Challenge" will inspire and equip men to succeed in practicing "Championship Fatherhood." Though not an official tie-in to the movie, this joint project by Focus on the Family and the National Center for Fathering will aid dads in applying the film's message. The "challenge" format will appeal to men's competitive instincts. And the simple, straightforward approach, combined with the limited time frame required, will convince them that they really can become measurably better dads in just three weeks.
- Publisher

What?s keeping you from a better relationship with your child? It?s not that you don?t want to spend more time together, have more fun, and pass along more God-honoring values. But life gets in the way, and before you know it you?re waving good-bye to a son or daughter and wishing you could try that fathering thing again.

The 21-Day Dad?s Challenge features a simple, practical tip for each day of the next three weeks?along with a quick, easy way to try it out. Not enough to weigh you down; just enough to make a difference.

You?ll be challenged by the best: Tony Dungy, Josh McDowell, Randy Alcorn, Carey Casey, Jim Daly, and more.

No matter what your child?s age, make each day count with in-person loving, coaching, and modeling?starting with the next 21!
- Publisher


Meet the Author
Carey Casey
Carey Casey is CEO of the National Center for Fathering and the author of Championship Fathering: How to Win at Being a Dad. He has served as chaplain for the Summer Olympic Games, the Dallas Cowboys, and the Kansas City Chiefs.