The 24-Hour Turn-Around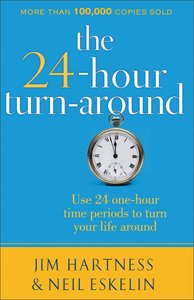 The 24-Hour Turnaround challenges people to spend one hour reading and contemplating each of the book's 24 chapters and to make a heartfelt decision to change in the area each chapter addresses. The premise is that decisions made in those 24 hours will transform the reader's career, health, relationships, and overall attitude.
& #9;The authors provide specific, doable advice, biblical affirmation, and motivating examples to he

- Publisher
You May Also Be Interested In
About "The 24-Hour Turn-Around"
The 24-Hour Turnaround challenges people to spend one hour reading and contemplating each of the book's 24 chapters and to make a heartfelt decision to change in the area each chapter addresses. The premise is that decisions made in those 24 hours will transform the reader's career, health, relationships, and overall attitude.
& #9;The authors provide specific, doable advice, biblical affirmation, and motivating examples to he
- Publisher


Meet the Authors
Jim Hartness
Hartness was trained in psychotherapy at the University of North Carolina graduate school and is a pastor.
Neil Eskelin
Neil Eskelin is a distinguished author and speaker who has given his inspiring addresses to over 3,000 audiences. His bestselling books include, The 24 Hour Turn-Around, 101 Promises Worth Keeping, and Yes Yes Living in a No No World.