The 52 Greatest Stories of the Bible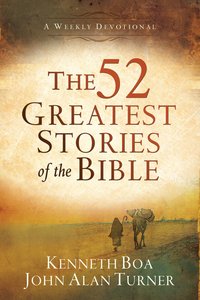 Classic Weekly Devotional through Some of the Bible's Most Fascinating Stories

How well do everyday Christians know the stories that have shaped their faith? More than just a collection of significant and entertaining stories, The 52 Greatest Stories of the Bible impresses upon readers the beautiful interconnectedness of the varied narratives we find in the Bible. It:

· connects the dots, demonstrating how each individual story is really one chapter in the larger story
· shows how Jesus, especially his death and resurrection, is the point of the story, even when the Son of God is not a key player
· helps readers build a biblical worldview that answers the ultimate questions of life

Readers will gain a better grasp of the whole story of Scripture and, most importantly, why these stories are the ones God chose to preserve for us through the writers of the Bible.

- Publisher
You May Also Be Interested In
About "The 52 Greatest Stories of the Bible"
Classic Weekly Devotional through Some of the Bible's Most Fascinating Stories

How well do everyday Christians know the stories that have shaped their faith? More than just a collection of significant and entertaining stories, The 52 Greatest Stories of the Bible impresses upon readers the beautiful interconnectedness of the varied narratives we find in the Bible. It:

· connects the dots, demonstrating how each individual story is really one chapter in the larger story
· shows how Jesus, especially his death and resurrection, is the point of the story, even when the Son of God is not a key player
· helps readers build a biblical worldview that answers the ultimate questions of life

Readers will gain a better grasp of the whole story of Scripture and, most importantly, why these stories are the ones God chose to preserve for us through the writers of the Bible.
- Publisher


Meet the Author
Kenneth D Boa
Kenneth D. Boa (Ph.D., New York University; D.Phil., University of Oxford in England) is engaged in a ministry of relational evangelism and discipleship, teaching, writing, and speaking.
Dr. Boa is the President of Reflections Ministries, an organization that seeks to encourage, teach, and equip people to know Christ, follow Him, become progressively conformed to His image, and reproduce His life in others. He is also President of Trinity House Publishers, a publishing company that is dedicated to the creation of tools that will help people manifest eternal values in a temporal arena by drawing them to intimacy with God and a better understanding of the culture in which they live.
Recent publications by Dr. Boa include Conformed to His Image; 20 Compelling Evidences that God Exists; Face to Face; Augustine to Freud; Faith Has its Reasons; and God, I Dont Understand. He is a contributing editor to The Open Bible and the consulting editor of the Zondervan NASB Study Bible.