The 7 Places Jesus Shed His Blood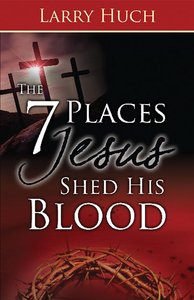 Discover the full revelation of what Jesus accomplished for you through His death and resurrection! Every page of this revolutionary book by Pastor Larry Huch will take you on a remarkable journey through the last days of Jesus' life and ministry. You'll receive a fresh perspective on how He shed His blood not just one time, but seven! Pastor Huch's fresh insights and deep revelations will show you the power to save, deliver, and heal through each place Jesus shed His blood. Go with him step-by-step, as he takes you to the garden of Gethsemane, where Jesus sweat drops of blood, to the whipping post where His back was laid bare by the thirty-nine stripes, to the nail wounds in His hands and feet at Calvary, and finally to the spear thrust into His side. Every place Jesus' blood was shed will become a life-changing connection for you to receive the redemptive blessings of God. Experience them now in The 7 Places Jesus Shed His Blood.

- Publisher
You May Also Be Interested In
About "The 7 Places Jesus Shed His Blood"
Discover the full revelation of what Jesus accomplished for you through His death and resurrection! Every page of this revolutionary book by Pastor Larry Huch will take you on a remarkable journey through the last days of Jesus' life and ministry. You'll receive a fresh perspective on how He shed His blood not just one time, but seven! Pastor Huch's fresh insights and deep revelations will show you the power to save, deliver, and heal through each place Jesus shed His blood. Go with him step-by-step, as he takes you to the garden of Gethsemane, where Jesus sweat drops of blood, to the whipping post where His back was laid bare by the thirty-nine stripes, to the nail wounds in His hands and feet at Calvary, and finally to the spear thrust into His side. Every place Jesus' blood was shed will become a life-changing connection for you to receive the redemptive blessings of God. Experience them now in The 7 Places Jesus Shed His Blood.
- Publisher


Meet the Author
Larry Huch
Larry Huch is the founder and senior pastor of DFW New Beginnings iný Irving, Texas. Larry and his wife, Tiz, have served in ministry for overý three decades, including pioneering seven different churches in Americaý and Australia. Their international TV program, New Beginnings, isý broadcast daily to millions of homes around the world.ý Larry's enthusiasm and deep love for the Lord, His Word, and Hisý people have touched and transformed the lives of thousands of peopleý through his best-selling books Unveiling Ancient Biblical Secrets, Theý Torah Blessing, 10 Curses That Block








Table Of Contents
Discover The Full Revelation Of What Jesus Accomplished For You Through His Death And Resurrection! Every Page Of This Revolutionary Book By Pastor Larry Huch Will Take You On A Remarkable Journey Through The Last Days Of Jesus' Life And Ministry. You'll Receive A Fresh Perspective On How He Shed His Blood Not Just One Time, But Seven! Pastor Huch's Fresh Insights And Deep Revelations Will Show You The Power To Save, Deliver, And Heal Through Each Place Jesus Shed His Blood. Go With Him Step-by-step, As He Takes You To The Garden Of Gethsemane, Where Jesus Sweat Drops Of Blood, To The Whipping Post Where His Back Was Laid Bare By The Thirty-nine Stripes, To The Nail Wounds In His Hands And Feet At Calvary, And Finally To The Spear Thrust Into His Side. Every Place Jesus' Blood Was Shed Will Become A Life-changing Connection For You To Receive The Redemptive Blessings Of God. Experience Them Now In The 7 Places Jesus Shed His Blood.