The 8 Secrets of Happiness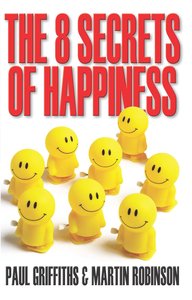 We are surrounded by innumerable products promising to make us more attractive, more healthy, more popular and more successful. But somehow, it's not quite enough - there's more to happiness than having a great job, designer clothes, a busy social life or a fat bank balance. This book guides you through the 8 secrets which psychologists have discovered to be the foundations of happiness, revealing a hidden dimension they all share. In an age of unprecedented wealth, coupled with unprecedented unhappiness and even depression, this book is a timely wake-up call.

- Publisher
You May Also Be Interested In
About "The 8 Secrets of Happiness"
We are surrounded by innumerable products promising to make us more attractive, more healthy, more popular and more successful. But somehow, it's not quite enough - there's more to happiness than having a great job, designer clothes, a busy social life or a fat bank balance. This book guides you through the 8 secrets which psychologists have discovered to be the foundations of happiness, revealing a hidden dimension they all share. In an age of unprecedented wealth, coupled with unprecedented unhappiness and even depression, this book is a timely wake-up call.
- Publisher


Meet the Authors
Paul Griffiths
Paul Griffiths is a Christian evangelist, Bible teacher and writer. He is the author of three books including God on Life: An Ancient Guide to Living and most recently with Martin Robinson The 8 Secrets to Happiness. Every weekday he broadcasts a 5 minute 'Thought for the Day' radio programme across the UK and Europe with Trans World Radio.
Martin Robinson
Dr Martin Robinson is the National Director of Together in Mission. In his early 20s Martin trained for the ministry and his first church was inner city Birmingham. That muti-ethnic congregation engaged in church planting and Martin together with his wife Lynda went to lead one of those church plants. After 13 years in local ministry, Martin went to work for the Bible Society in a variety of roles. In his role as Director of Mission and Theology and since, Martin has written many books on the broad theme of mission, including Faith of the Unbeliever, Thinking Clearly: Why The Cross?; Invading Secular Space; Winning Hearts, Changing Minds and most recent with Paul Griffiths The 8 Secrets Of Happiness. In 2002 Martin joined Together in Mission as the National Director.
Koorong -Editorial Review.
Table Of Contents
We Are Surrounded By Innumerable Products Promising To Make Us More Attractive, More Healthy, More Popular And More Successful. But Somehow, It's Not Quite Enough - There's More To Happiness Than Having A Great Job, Designer Clothes, A Busy Social Life Or A Fat Bank Balance. This Book Guides You Through The 8 Secrets Which Psychologists Have Discovered To Be The Foundations Of Happiness, Revealing A Hidden Dimension They All Share. In An Age Of Unprecedented Wealth, Coupled With Unprecedented Unhappiness And Even Depression, This Book Is A Timely Wake-up Call.