The a Kiss of Adventure / a Whisper of Danger / a Touch of Betrayal (Treasure Of The Heart Series)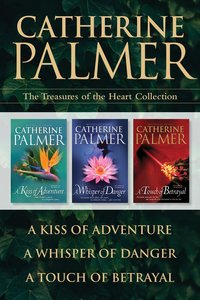 This collection bundles all 3 of beloved author Catherine Palmer's Treasures of the Heart series together into one 3-book for a great value!

#1: A Kiss of Adventure
Desperate and on the run, Tillie Thornton finds herself in an uneasy partnership with Graeme McLeod, a daring adventurer who comes out of nowhere to thwart the plot of Tillie's would-be kidnappers. Now these two must join forces against their common enemies, as well as the challenges of nature, as they embark on a quest that could bring them the answers they seek-or cost them everything. Formerly published as The Treasure of Timbuktu.

#2: A Whisper of Danger
Jessica Thornton is ready for a fresh start for herself and her irrepressible son, Splinter. An unexpected, unusual inheritance-a remote island mansion-seems like the opportunity of a lifetime. But when she arrives, she stumbles into a dangerous web of deception, greed, and murder. Even worse, she runs into the one person she never wanted to lay eyes on again: her long-lost husband, the man who coldly deserted her before their son was born. And the request he makes of her threatens to shake the very foundation of her life. Formerly published as The Treasure of Zanzibar.

#3: A Touch of Betrayal
2001 Christy Award winner! Fashion designer Alexandra Prescott fully expects her latest business trip to be an adventure. After all, she is looking for inspiration for a line of exotic fabrics. But her well-ordered plans are shattered by news of financial disaster-and an attempt on her life! Reluctantly admitting her vulnerability, she is forced to turn for help to Grant Thornton, an infuriatingly independent anthropologist whom she has met under suspicious circumstances. Inexplicably drawn together, neither is prepared for the challenges ahead.

- Publisher
You May Also Be Interested In
About "The a Kiss of Adventure / a Whisper of Danger / a Touch of Betrayal (Treasure Of The Heart Series)"
This collection bundles all 3 of beloved author Catherine Palmer's Treasures of the Heart series together into one 3-book for a great value!

#1: A Kiss of Adventure
Desperate and on the run, Tillie Thornton finds herself in an uneasy partnership with Graeme McLeod, a daring adventurer who comes out of nowhere to thwart the plot of Tillie's would-be kidnappers. Now these two must join forces against their common enemies, as well as the challenges of nature, as they embark on a quest that could bring them the answers they seek-or cost them everything. Formerly published as The Treasure of Timbuktu.

#2: A Whisper of Danger
Jessica Thornton is ready for a fresh start for herself and her irrepressible son, Splinter. An unexpected, unusual inheritance-a remote island mansion-seems like the opportunity of a lifetime. But when she arrives, she stumbles into a dangerous web of deception, greed, and murder. Even worse, she runs into the one person she never wanted to lay eyes on again: her long-lost husband, the man who coldly deserted her before their son was born. And the request he makes of her threatens to shake the very foundation of her life. Formerly published as The Treasure of Zanzibar.

#3: A Touch of Betrayal
2001 Christy Award winner! Fashion designer Alexandra Prescott fully expects her latest business trip to be an adventure. After all, she is looking for inspiration for a line of exotic fabrics. But her well-ordered plans are shattered by news of financial disaster-and an attempt on her life! Reluctantly admitting her vulnerability, she is forced to turn for help to Grant Thornton, an infuriatingly independent anthropologist whom she has met under suspicious circumstances. Inexplicably drawn together, neither is prepared for the challenges ahead.
- Publisher


Meet the Author
Catherine Palmer
Catherine Palmer has published more than 40 novels, most of them national best-sellers. Cathrine has won numerous awards for her writing, including the Christy Award - the highest honour in Christian fiction - for A Touch of Betrayal. In 2204 she was given the Career Achievement Award for inspirational romance by Romantic Times Book Reviews magazine. More than two million copies of her novels are currenly in prints. She lives in Missouri with her husband and two sons. She is a graduate of Southwest Baptist University and has a masters degree in English from Baylor University. - Publisher.