The Accidental Empress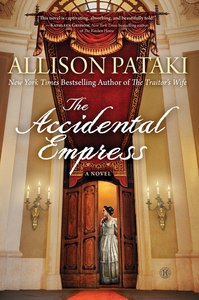 A New York Times bestseller, The Accidental Empress is the "captivating, absorbing, and beautifully told" (Kathleen Grissom) love story of "Sisi" the Austro-Hungarian empress and wife of Emperor Franz Joseph.

The year is 1853, and the Habsburgs are Europe's most powerful ruling family. With his empire stretching from Austria to Russia, from Germany to Italy, Emperor Franz Joseph is young, rich, and ready to marry.

Fifteen-year-old Elisabeth, "Sisi," Duchess of Bavaria, travels to the Habsburg Court with her older sister, who is betrothed to the young emperor. But shortly after her arrival at court, Sisi finds herself in an unexpected dilemma: she has inadvertently fallen for and won the heart of her sister's groom. Franz Joseph reneges on his earlier proposal and declares his intention to marry Sisi instead.

Thrust onto the throne of Europe's most treacherous imperial court, Sisi upsets political and familial loyalties in her quest to win, and keep, the love of her emperor, her people, and of the world.

With Pataki's rich period detail and cast of complex, bewitching characters, The Accidental Empress offers "another absolutely compelling story" (Mary Higgins Clark) with this glimpse into one of history's most intriguing royal families, shedding new light on the glittering Hapsburg Empire and its most mesmerizing, most beloved "Fairy Queen."

- Publisher
You May Also Be Interested In
About "The Accidental Empress"
A New York Times bestseller, The Accidental Empress is the "captivating, absorbing, and beautifully told" (Kathleen Grissom) love story of "Sisi" the Austro-Hungarian empress and wife of Emperor Franz Joseph.

The year is 1853, and the Habsburgs are Europe's most powerful ruling family. With his empire stretching from Austria to Russia, from Germany to Italy, Emperor Franz Joseph is young, rich, and ready to marry.

Fifteen-year-old Elisabeth, "Sisi," Duchess of Bavaria, travels to the Habsburg Court with her older sister, who is betrothed to the young emperor. But shortly after her arrival at court, Sisi finds herself in an unexpected dilemma: she has inadvertently fallen for and won the heart of her sister's groom. Franz Joseph reneges on his earlier proposal and declares his intention to marry Sisi instead.

Thrust onto the throne of Europe's most treacherous imperial court, Sisi upsets political and familial loyalties in her quest to win, and keep, the love of her emperor, her people, and of the world.

With Pataki's rich period detail and cast of complex, bewitching characters, The Accidental Empress offers "another absolutely compelling story" (Mary Higgins Clark) with this glimpse into one of history's most intriguing royal families, shedding new light on the glittering Hapsburg Empire and its most mesmerizing, most beloved "Fairy Queen."
- Publisher


Meet the Author
Allison Pataki
Allison Pataki graduated Cum Laude from Yale University and has spent several years writing for TV and online news outlets, including ABCNews.com and FoxNews.com. The daughter of former New York State Governor George E. Pataki, Allison was inspired to write "The Traitor's Wife "based on the rich Revolutionary War history of her hometown in New York State's Hudson Highlands. "The Traitor's Wife" is Allison's first novel. She lives in Chicago with her husband, David.