The Accidental Pilgrim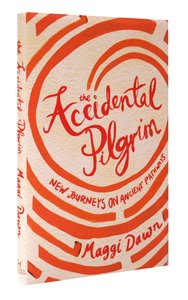 Pilgrimage has been an important practice in Christianity since the fourth century, but most people's notion of pilgrimage is one of travelling to the site of an apparition, in search of inspiration or miracles. THE ACCIDENTAL PILGRIM shows that pilgrimage is not just a relic of Catholic history, but can remain a significant practice for twenty-first century Christians today.THE ACCIDENTAL PILGRIM gives a lively overview of the history of pilgrimage and the popular pilgrim routes, exploring the mix of spiritual and other motives that have inspired pilgrims both past and contemporary. It then explores how people both inside and outside the Church can rediscover pilgrimage within twenty-first century culture. Illustrated throughout, and written by one of the UK's most popular theologians, THE ACCIDENTAL PILGRIM is a compelling invitation to all on the journey of faith.

- Publisher
You May Also Be Interested In
About "The Accidental Pilgrim"
Pilgrimage has been an important practice in Christianity since the fourth century, but most people's notion of pilgrimage is one of travelling to the site of an apparition, in search of inspiration or miracles. THE ACCIDENTAL PILGRIM shows that pilgrimage is not just a relic of Catholic history, but can remain a significant practice for twenty-first century Christians today.THE ACCIDENTAL PILGRIM gives a lively overview of the history of pilgrimage and the popular pilgrim routes, exploring the mix of spiritual and other motives that have inspired pilgrims both past and contemporary. It then explores how people both inside and outside the Church can rediscover pilgrimage within twenty-first century culture. Illustrated throughout, and written by one of the UK's most popular theologians, THE ACCIDENTAL PILGRIM is a compelling invitation to all on the journey of faith.
- Publisher


Meet the Author
Maggi Dawn
Maggi Dawn is an Anglican minister, currently serving as Chaplain to Robinson College, Cambridge University, where she writes and teaches theology. She has contributed to BRF's Guidelines Bible reading notes, Beginnings and Endings (and what happens in between) and is also the author of a number of worship songs and hymns.