The Acts of the Apostles (Lightfoot Legacy Set Series)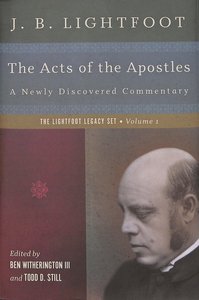 :InterVarsity Press is proud to present The Lightfoot Legacy, a three-volume set of previously unpublished material from J. B. Lightfoot, one of the great biblical scholars of the modern era. In the spring of 2013, Ben Witherington III discovered hundreds of pages of biblical commentary by Lightfoot in the Durham Cathedral Library. While incomplete, these commentaries represent a goldmine for historians and biblical scholars, as well as for the many people who have found Lightfoot's work both informative and edifying, deeply learned and pastorally sensitive. Among those many pages were two sets of lecture notes on the Acts of the Apostles. Together they amount to a richly detailed, albeit unfinished, commentary on Acts 1-21. The project of writing a commentary on Acts had long been on Lightfoot's mind, and in the 1880s he wrote an article about the book for the second British edition of William Smith's Dictionary of the Bible. Thankfully, that is not all he left behind. Now on display for all to see, these commentary notes reveal a scholar well ahead of his time, one of the great minds of his or any generation. Well over a century later, The Acts of the Apostles remains a relevant and significant resource for the church today.

- Publisher
You May Also Be Interested In
About "The Acts of the Apostles (Lightfoot Legacy Set Series)"
:InterVarsity Press is proud to present The Lightfoot Legacy, a three-volume set of previously unpublished material from J. B. Lightfoot, one of the great biblical scholars of the modern era. In the spring of 2013, Ben Witherington III discovered hundreds of pages of biblical commentary by Lightfoot in the Durham Cathedral Library. While incomplete, these commentaries represent a goldmine for historians and biblical scholars, as well as for the many people who have found Lightfoot's work both informative and edifying, deeply learned and pastorally sensitive. Among those many pages were two sets of lecture notes on the Acts of the Apostles. Together they amount to a richly detailed, albeit unfinished, commentary on Acts 1-21. The project of writing a commentary on Acts had long been on Lightfoot's mind, and in the 1880s he wrote an article about the book for the second British edition of William Smith's Dictionary of the Bible. Thankfully, that is not all he left behind. Now on display for all to see, these commentary notes reveal a scholar well ahead of his time, one of the great minds of his or any generation. Well over a century later, The Acts of the Apostles remains a relevant and significant resource for the church today.
- Publisher


Meet the Authors
J B Lightfoot
Alister E. McGrath is one of the most respected Christian theologians of this century. Born in Belfast, Northern Ireland, Dr. McGrath currently serves as Professor of Theology, Ministry and Education, and Head of the Centre for Theology, Religion and Culture at King's College, London. ý Alister McGrath es profesor de teologia historica en la Universidad de Oxford y director del Oxford Centre for Evangelism and Apologetics. Es autor de muchos libros altamente aclamados, incluyendo In The Beginning: The Story of the Kings James Bible.

Ben Witherington
Ben Witherington III (Ph.D., University of Durham, England) is Amos Professor of New Testament for Doctoral Studies at Asbury Theological Seminary in Wilmore, Kentucky, and is on the doctoral faculty at the University of St. Andrews in Scotland
He is the author of many books on the New Testament, including Women and the Genesis of Christianity (Cambridge University Press); Jesus the Sage (Fortress Press); The Jesus Quest (InterVarsity Press) and The Paul Quest (InterVarsity Press). With Hershel Shanks he is coauthor of The Brother of Jesus (HarperSanFrancisco), a book on the controversial James ossuary. A frequent contributor to Beliefnet.com, Witherington has also appeared on numerous TV news programs such as Dateline, 60 Minutes, 20/20 and the Peter Jennings ABC special Jesus and Paul--The Word and the Witness.
Dr Witherington has written a commentary on every book of the New Testament in a wide variety of series.
Todd Still
Todd D. Still (Ph.D., University of Glasgow, Scotland) serves as an associate professor of Christian Scriptures (New Testament and Greek) at the George W. Truett Theological Seminary of Baylor University. A Pauline specialist, Dr. Still's publications include Conflict at Thessalonica: A Pauline Church and its Neighbors (Sheffield Academic Press), Colossians (The Expositor's Bible Commentary, Revised Edition--Zondervan), Philippians, Philemon (Smyth & Helwys Bible Commentary), Jesus and Paul Reconnected: Fresh Pathways into an Old Debate (Eerdmans), and with David E. Garland. Paul: An Introduction to the Apostle's Interpreters, Life, Letters, and Thought.( Zondervan).
Koorong -Editorial Review.
Table Of Contents
:abbreviationsforewordintroduction

part I: Introduction To Commentating In General

Reflections On The Necessity Of A Clear And Proper View Of The Inspiration Of Scripture As A Presupposition For Correctly Approaching The Bible

part Ii: Introduction To Acts

Preliminary Matters

part Iii: The Commentary On Acts

The Superscriptthe Prefaceacts 1: Ascension, Judas' Demise, The Filling Up Of The Twelveexcursus: On The Historical Problem Of The Varying Accounts Of Judas' Demiseacts 2: Pentecost And Its Aftermathacts 3&-6: The Beginnings And Trials Of The Church In Jerusalemexcursus: The Sanhedrin And The High Priestsexcursus: The Primacy Of Peterexcursus: The Diaconateacts 7: The First Martyr For Christthe Tabernacleexcursus: The Authenticity Of The Speech Of St. Stephenacts 8: Simon, The Samaritans, And Philipexcursus: Simon Magusconversion Of The Ethiopianacts 9: The Conversion Of Saulacts 10: The Surprising Story Of Corneliusacts 11: Trouble In Zion&-peter Explainsacts 12: The Persecuted Church And The Dawn Of The Mission Of The Persecutoracts 13&-14: The First Missionary Journeyst. Paul's Apostolic Journeysacts 15: The Apostolic Council And Its Aftermathacts 16: The Second Missionary Journeyacts 17: Macedonia And On To Athensthe History Of St. Paul's Day At Thessalonikeacts 18: And So To Corinthacts 19: Finally At Ephesusacts 19:21&-21:39: The Third Missionary Journeytimothy And Erastusthe Speech Of St. Paul At Miletusconclusion On The Rest Of Acts

Appendix
Other Titles In The "Lightfoot Legacy Set Series" Series