The Almost True Story of Ryan Fisher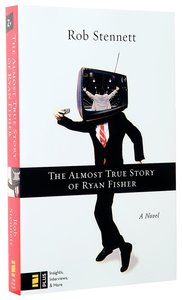 Meet Ryan Fisher. He's young, energetic, and needs an edge in the real estate market. He's found the perfect niche: Christians. His business doubles when he advertises in the Christian business directory, and he begins to think he could really cash in by planting a church. But when the church takes off, Ryan is in over his head.




"Screenwriter Stennett offers a satirical look at a non-Christian's ascent to pastor of a megachurch in this engaging, highly readable novel. Ryan Fisher is a 28-year-old real estate agent who doesn't believe in God, but lists himself in the Christian Business Directory (along with a Jesus fish symbol) to beef up sales. He and his wife, Katherine, attend church to validate his new religious image, where he sees the possibilities of utilizing business principles to create his own megachurch. They move to Bartlesville, Oklahoma, and create "The People's Church" where Ryan preaches a feel-good, do-good gospel ("I'm not encumbered by things like the Bible and Jesus"). As church numbers swell, Oprah calls, local pastors are on the warpath, a religious fanatic plots Ryan's assassination, and Katherine is smitten with Cowboy Jack, a karaoke singer-turned-worship leader who pens Christian lyrics to popular radio tunes. Is Ryan in over his head? Interesting narration and Dave Barryesque footnotes make this humorous entertainment with a faith-based message."

s Weekly, June 2008

- Publisher Meet Ryan Fisher---a self-assured real estate agent who's looking for an edge in the market. While watching a news special late one night, he sees evangelical Christians raising their hands in worship. It's like they're begging for affordable but classy starter homes. Ryan discovers the Christian business directory and places an ad complete with a Jesus fish. His business doubles in a week. But after visiting an actual church, Ryan realizes that with his business savvy, he could not only plant a church---he could create an empire. The Almost True Story of Ryan Fisher is a hilarious, spot-on, and often heartbreaking satire in the tradition of Kurt Vonnegut, Tom Perrotta, and Douglas Adams.

- Publisher
You May Also Be Interested In
About "The Almost True Story of Ryan Fisher"
Meet Ryan Fisher. He's young, energetic, and needs an edge in the real estate market. He's found the perfect niche: Christians. His business doubles when he advertises in the Christian business directory, and he begins to think he could really cash in by planting a church. But when the church takes off, Ryan is in over his head.




"Screenwriter Stennett offers a satirical look at a non-Christian's ascent to pastor of a megachurch in this engaging, highly readable novel. Ryan Fisher is a 28-year-old real estate agent who doesn't believe in God, but lists himself in the Christian Business Directory (along with a Jesus fish symbol) to beef up sales. He and his wife, Katherine, attend church to validate his new religious image, where he sees the possibilities of utilizing business principles to create his own megachurch. They move to Bartlesville, Oklahoma, and create "The People's Church" where Ryan preaches a feel-good, do-good gospel ("I'm not encumbered by things like the Bible and Jesus"). As church numbers swell, Oprah calls, local pastors are on the warpath, a religious fanatic plots Ryan's assassination, and Katherine is smitten with Cowboy Jack, a karaoke singer-turned-worship leader who pens Christian lyrics to popular radio tunes. Is Ryan in over his head? Interesting narration and Dave Barryesque footnotes make this humorous entertainment with a faith-based message."

s Weekly, June 2008
- Publisher

Meet Ryan Fisher---a self-assured real estate agent who's looking for an edge in the market. While watching a news special late one night, he sees evangelical Christians raising their hands in worship. It's like they're begging for affordable but classy starter homes. Ryan discovers the Christian business directory and places an ad complete with a Jesus fish. His business doubles in a week. But after visiting an actual church, Ryan realizes that with his business savvy, he could not only plant a church---he could create an empire. The Almost True Story of Ryan Fisher is a hilarious, spot-on, and often heartbreaking satire in the tradition of Kurt Vonnegut, Tom Perrotta, and Douglas Adams.
- Publisher


Meet the Author
Rob Stennett
Rob Stennett is the author of The Almost True Story of Ryan Fisher, and The End is Now, an award-winning screenwriter, a produced playwright Fisher, an award-winning screenwriter, a produced playwright, and a film and theater director. He lives in Colorado.