The Amazing Works of John Newton (Pure Gold Classics Series)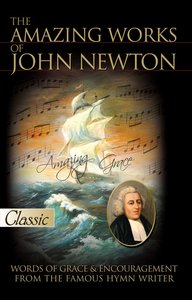 John Newton was one of the most prolific letter writers, preachers, and hymn writers of all time. His hymns and letters are filled with great theology and pastoral doctrine, and his sermons reach into the depths of the Scriptures and apply them to his hearers in such a manner that anyone taking them to heart and applying them will experience the deepest kind of Christian life. Everything John Newton wrote came out of the depths of his personal spiritual journey from a slaver to a saint. It is a journey that shows any sinner there is hope in Jesus Christ, and teaches every Christian that God never stops stops working, watching over, protecting, picking up when we fall, and cleansing and sanctifying His children in Christ.



- Publisher
You May Also Be Interested In
About "The Amazing Works of John Newton (Pure Gold Classics Series)"
John Newton was one of the most prolific letter writers, preachers, and hymn writers of all time. His hymns and letters are filled with great theology and pastoral doctrine, and his sermons reach into the depths of the Scriptures and apply them to his hearers in such a manner that anyone taking them to heart and applying them will experience the deepest kind of Christian life. Everything John Newton wrote came out of the depths of his personal spiritual journey from a slaver to a saint. It is a journey that shows any sinner there is hope in Jesus Christ, and teaches every Christian that God never stops stops working, watching over, protecting, picking up when we fall, and cleansing and sanctifying His children in Christ.


- Publisher


Meet the Author
John Newton
John Newton is Associate Professor of Organization Dynamics at the Royal Melbourne Institute of Technology University, Melbourne, Australia, where he is the founding director of graduate programs in Organization Dynamics. A member of the International Society for the Psychoanalytic Study of Organizations, his work as an educator, consultant and action researcher is characterised by his interest in learning from experience.
Other Titles In The "Pure Gold Classics" Series View All