The American Prophecies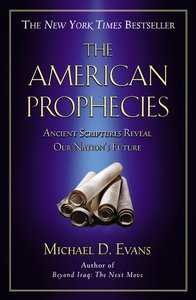 - The American Prophecies was published as a Warner Faith hardcover (0-446-52252-X) in August 2004. The book had four printings immediately following its release, with over 80,000 copies in print to date, and held spots on both the New York Times and The Wall Street Journal bestseller lists. - The author's previous book, Beyond Iraq (Water Stone Press, 2003), has sold over 100,000 copies in trade paperback and was also a national bestseller. He has published numerous articles in periodicals throughout the world, including The Wall Street Journal and the Jerusalem Post. - Evans has appeared on Good Morning America, Nightline, Crossfire, CNN, Fox News, and hundreds of radio and television programs. - A confidant of Israeli leaders for over two decades, Evans has spoken in over 4,000 churches and in 41 stadiums worldwide. He is the founder of the Jerusalem Prayer Team that organizes tens of thousands to seek peace in the Middle East. - The author is the recipient of numerous awards, including the Ambassador Award by the State of Israel.

- Publisher How is America tied into ancient biblical prophecies? According to author Michael Evans, a fundamentalist Christian minister, biblical prophets already predicted that America is doomed to collapse unless its government stops accommodating the Arab world for the sake of oil and instead offers full military and diplomatic support to Israel. He believes that God wants Israel to have full control of the West Bank and Gaza, and Americans are risking God's wrath by not fully supporting this biblical mandate. Evans also theorizes that much of America's problems--including the attack of 9-11--are indications of God's fury over America's split allegiance between the two famous descendents of Abraham: Ishmael and Isaac. "We are caught in a tug of war between two brothers--between oil, political expedience, and conscience in many ways--and it our decisions and polices concerning these two brothers that will determine whether the United States will survive or go the way of the Roman Empire," he writes. Evans's prophetic foundation begins with the parable of the fig tree (Matthew 24:32-44), in which he interprets the various signs Jesus gave his disciples to mark "the final age and his return." Obviously, the Bible can be interpreted many ways, and Evans uses 17 chapters to weave in interpretations of scripture that support his theory that America faces a mammoth choice--ruin or salvation. Although actual quotes from scripture are rather sparse throughout the book, he concludes with a five-page index of "Ancient Prophecies" that indirectly support his theory. One caveat--Evans (Beyond Iraq) does not hide his vehement anti-Muslim leanings. This book will probably be offensive to Christians who practice religious tolerance and lean toward a more-inclusive solution to American diplomacy in the Middle East. --Gail Hudson

- Publisher New York Times bestselling author Michael D. Evans explains ancient biblical prophecies about current events that affect America's role and destiny in the twenty-first century.

- Publisher
You May Also Be Interested In
About "The American Prophecies"
- The American Prophecies was published as a Warner Faith hardcover (0-446-52252-X) in August 2004. The book had four printings immediately following its release, with over 80,000 copies in print to date, and held spots on both the New York Times and The Wall Street Journal bestseller lists. - The author's previous book, Beyond Iraq (Water Stone Press, 2003), has sold over 100,000 copies in trade paperback and was also a national bestseller. He has published numerous articles in periodicals throughout the world, including The Wall Street Journal and the Jerusalem Post. - Evans has appeared on Good Morning America, Nightline, Crossfire, CNN, Fox News, and hundreds of radio and television programs. - A confidant of Israeli leaders for over two decades, Evans has spoken in over 4,000 churches and in 41 stadiums worldwide. He is the founder of the Jerusalem Prayer Team that organizes tens of thousands to seek peace in the Middle East. - The author is the recipient of numerous awards, including the Ambassador Award by the State of Israel.
- Publisher

How is America tied into ancient biblical prophecies? According to author Michael Evans, a fundamentalist Christian minister, biblical prophets already predicted that America is doomed to collapse unless its government stops accommodating the Arab world for the sake of oil and instead offers full military and diplomatic support to Israel. He believes that God wants Israel to have full control of the West Bank and Gaza, and Americans are risking God's wrath by not fully supporting this biblical mandate. Evans also theorizes that much of America's problems--including the attack of 9-11--are indications of God's fury over America's split allegiance between the two famous descendents of Abraham: Ishmael and Isaac. "We are caught in a tug of war between two brothers--between oil, political expedience, and conscience in many ways--and it our decisions and polices concerning these two brothers that will determine whether the United States will survive or go the way of the Roman Empire," he writes. Evans's prophetic foundation begins with the parable of the fig tree (Matthew 24:32-44), in which he interprets the various signs Jesus gave his disciples to mark "the final age and his return." Obviously, the Bible can be interpreted many ways, and Evans uses 17 chapters to weave in interpretations of scripture that support his theory that America faces a mammoth choice--ruin or salvation. Although actual quotes from scripture are rather sparse throughout the book, he concludes with a five-page index of "Ancient Prophecies" that indirectly support his theory. One caveat--Evans (Beyond Iraq) does not hide his vehement anti-Muslim leanings. This book will probably be offensive to Christians who practice religious tolerance and lean toward a more-inclusive solution to American diplomacy in the Middle East. --Gail Hudson
- Publisher

New York Times bestselling author Michael D. Evans explains ancient biblical prophecies about current events that affect America's role and destiny in the twenty-first century.
- Publisher


Meet the Author
Michael Evans
Michael Evans is the author of 17 best-selling books on the Middle East. He is the founder of the Jerusalem Prayer Team, a national intercessory prayer movement to mobilize one million intercessors to pray for revival in the Middle East according. Mr. Evans has been building a bridge between the evangelical community in the United States and the nations of Israel.